Friday, April 6th, 2012 at 1:06 am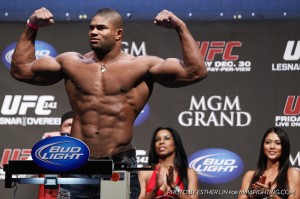 Ever since Alistair Overeem started eating babies "eating horse meat" there have been whispers that Overeem's physique was on the wrong side of the vial. Overeem was an enigma, who remained heavyweight champ of Strikeforce despite defending the title only once in three years. If he had been a fighting champion there's no question it would have helped Strikeforce put out a more competitive product to better compete with UFC.
Despite the steroids rumors, Overeem was a big score for the UFC; he was a legit heavyweight and the division needed them. Overeem was immediately awarded a fight against former heavyweight champion Brock Lesnar, beating him in the first round DESPITE the fact that he technically skipped town before his drug screening for THAT FIGHT, and got a conditional license from Nevada for the fight. Despite all the red flags though, Overeem delivered and he was rewarded with a title shot against Junior Dos Santos for UFC 146.
Dash my hopes and dreams, FOX SPORTS:
Overeem, along with all other main-card fighters, was tested at a press conference in Las Vegas to promote the UFC 146 pay-per-view event, at which Overeem was scheduled to take on UFC heavyweight champion Junior dos Santos. "The Demolition Man's" sample came back showing an elevated level of testosterone, a result that indicates the illegal use of testosterone as a performance enhancing substance.
There's still a chance that the "B" sample of Overeem's urine will come back negative, but don't hold your breath, this fight is probably not going to happen. Be ready to watch Frank Mir take on Dos Santos, which could be okay except Mir is inconsistent.
At the risk of going Florio on everybody here, it's absolute bullshit that Overeem was able to put the UFC in this position in the first place. The UFC pushed Brock Lesnar to the moon when he first arrived in UFC, he was given a heavyweight title shot after just three fights, and now he's back in WWE, so why didn't White learn anything from that experience? Why was a rematch against Velasquez for Dos Santos so out of the question?