Rex Ryan Also Finds Peter Angelos To Be Quite The Wack
Friday, April 19th, 2013 at 4:26 pm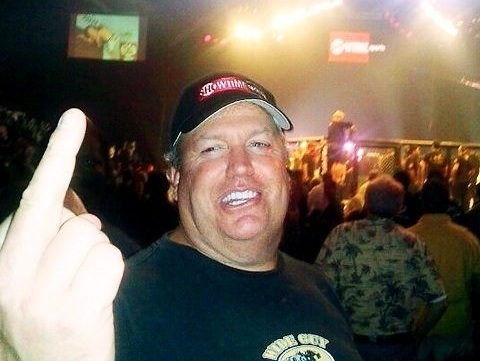 Put me down as one of the Ravens fans who was inexplicably pissed off that the Orioles weren't willing to move the time of their September 5th home game to accomodate the Ravens. The Super Bowl champions should be opening up at home on that day but will instead play on the road at Denver. You know who else ain't having it? Rex Ryan.
"Well who really cares, you've got 81 at home, maybe you could have done the right thing and given one up and then played 82 on the road and then 80 at home," he said. "I really don't think people are going to care about that game."

"You have a chance to have the defending world champs open up the season at home where they rightfully should. That's unfortunate," the Jets coach added.
The Ravens wanted the Orioles to play a day game in order to accomodate the football game at night. Ryan's idea to play the baseball game away would complicate matters a bit more. It is interesting that the Orioles claimed it would be too difficult to accomodate the Ravens yet somehow thought both stadiums could handle simultaneous events during a joint Baltimore-Washington DC Olympic Games. One would think Peter Angelos would make some concessions but he's like Mumm-Ra if he was composed of asbestos, tobacco and crocodile tears. He won't even let any other attorney be a partner in his firm. He probably eats the male babies left out beyond the wall by Craster.
The scourge that is Angelos is still no reason for Ryan and Ravens fans to get so worked up about this issue. It would be great for fans to salute the team without climbing over cars and gates like a scene out of World War Z. However a win is more important and they'll be home the following week to slap the Browns around like Ike Turner. Fans should be more interested in seeing how Flacco and the new defensive personnel perform. Perhaps John Harbaugh can ask for a moment to thank Denver for Elvis Dumervil right after the national anthem.
I wouldn't be going to the game even if it was played at home so there's no need for me to get worked up. I can watch from the comfort of a bar or home seat accompanied by friends and cheap beers. I'll be wetting myself from the fact that pro football is back and I don't have to use baseball to fill the emptiness in my sporting heart. My father used to take my brother and I to games at Memorial Stadium and Camden Yards but Angelos and Bud Selig killed my love affair with the sport many years ago.
The Orioles team on the field is likable and fun to watch for a change but the front office and ownership make it a chore to embrace them fully. Ravens players were incredibly supportive of the Orioles down last season's stretch and through the playoffs but Angelos threw that back in the face of the most popular team in town. Accordingly they refused the opportunity to be honored on Opening Day. Nice try.
That's the reason why football is #1 in a town which used to be owned by the Orioles. It's also the reason Ryan threw some bows on them. Well done but now get back to hugging Mark Sanchez and telling him to find a happy place before a quarterback who literally shits himself takes his job. What? Too soon?
This one goes out to Petey from Rex.

50 Cent - Wanksta [HQ] by CaMGuY
UPDATE: Buck Showalter responds
Buck said Rex Ryan should be more concerned w/ playing #Ravens this yr. "I would stay in my supposed area of expertice." #Orioles #Jets

— Eduardo A. Encina (@EddieInTheYard) April 19, 2013
Tagged with: 50 Cent • Baltimore • Cleveland Browns • Denver Broncos • Game of Thrones • Peter Angelos • Thundercats • World War Z
Filed under: Baltimore Orioles • Baltimore Ravens • Rex Ryan
Like this post? Subscribe to my RSS feed and get loads more!