Friday, January 11th, 2013 at 9:09 am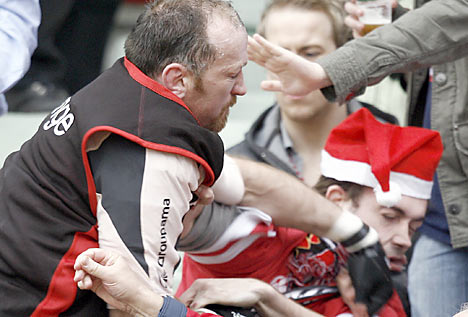 It was only last month when many of you were crying about the Mayan apocalypse. You should have seen people chilling in Australia. They've been in training for the inevitable all their lives. Don't believe me? Watch the Mad Max documentary series. It's as if David Attenborough decided to focus on humans for a change.
There are basic survival rules every Australian learns from childhood. Rule #3: Always keep your head on a swivel. You never know when danger will come or where it'll come from. ACT Brumbies scrumhalf Nic White learned his lesson when he was "king-hit" at a music festival.
ACT Brumbies scrumhalf Nic White needed surgery on a fractured jaw after he was king-hit at the Foreshore music festival on November 24.

The Brumbies have cleared the 22-year-old of any wrongdoing and claimed he was struck once from behind.

Brumbies chief executive Andrew Fagan said the Super Rugby club investigated the incident soon after it happened and that White didn't press charges with police because he didn't see who his attacker was.

"Nic was the victim of an unprovoked assault in which he was king-hit when struck once at Foreshore through no fault of his own," Fagan said.
King-hit is Australian for getting knocked the fuck out. An example.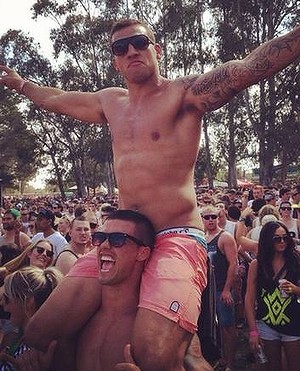 White wasn't the only one getting into it at the music festival. The Canberra Raiders' Blake Ferguson was spotted spitting on concert goers and had to be "escorted" out of the VIP area by security.
Say what you will but news of these incidents is encouraging. Australian rugby has come along way in the past couple years. I'll take spitting on people and getting knocked out at music festivals over rugby players getting blowjobs from dogs any day.