Tuesday, October 18th, 2011 at 12:17 am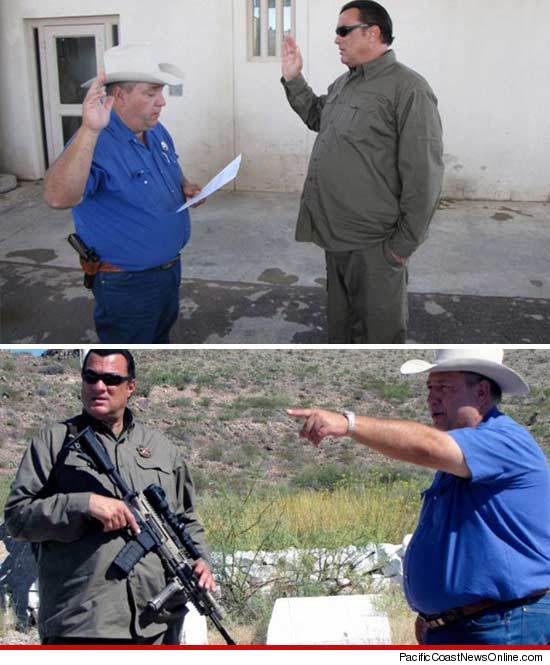 Rape whistle inventor's inspiration and Bobby Lupo avenger Steven Seagal was instrumental in the victories of Andersen Silva over Vitor Belfort at UFC 126, and Lyoto Machida's victory over Randy Couture. Although Jon "Bones" Jones had the opportunity to learn the ways of the eskimo woman sensi, he chose to decline, which lead to him winning the fight anyway. Now we are learning that Steven Seagal may be taking his character from the Grindhouse crapfest Machete a little too seriously.
Courtesy of TMZ:
Mexicans looking to sneak into the United States have a brand new obstacle … a gun-toting Steven Seagal … who has just become an official border sheriff in Texas.

Seagal was sworn in as a sheriff's deputy in Hudspeth County, Texas this weekend … and according to a sheriff's dept. spokesman, he'll be working full-time to help secure the border Texas shares with Mexico.

Shockingly, the rep insists Seagal's work with the department has nothing to do with his A&E reality show, "Steven Seagal: Lawman."

One of the sheriffs told Chron.com, "It became very clear to me that Mr. Seagal is not in this for the celebrity or the publicity … He's like the rest of us that live down here, he has a sincere passion for his country and he wants to do more to help."
On a side note, Seagal looks like he's ready to stroll the desert, at extremely high temperatures, and to, if necessary, give pursuit to these hopeful, hard-working, harmlessful Americans terrorists. Not only that but he probably won't sweat, either.