Thursday, February 23rd, 2012 at 7:02 am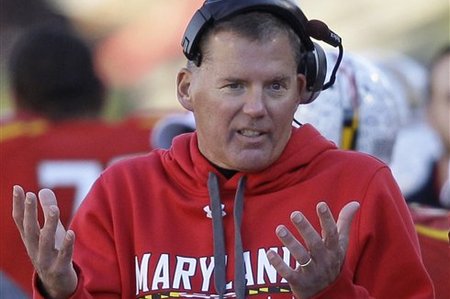 About ten years ago, the University of Maryland kicked off a decade of football performance that was the most prolific in the school's history. About one year ago, the school kicked off a decade which has the potential to be one of its worst.
Despite the recent signing of five-star recruit Stefon Diggs, Coach Randy Edsall has successfully alienated a stunning number of players, leading 25 to leave the program. Most prominently of those is former ACC rookie of the year, QB Danny O'Brien. O'Brien never seemed to fit in Edsall's system: after a promising season-opening victory over a depleted Miami team, O'Brien eventually lost his job to C.J. Brown. It seemed evident O'Brien would depart at season's end to play elsewhere. Of course, this upset Edsall:
"I'm disappointed by Danny's decision," Edsall said in a statement. "Danny told me that he's not committed to our program, that he's not 'all in.' I want what's best for all of our players. Danny wants a fresh start elsewhere. I wish him well."
Yet, that wasn't enough for Edsall or the University: not only did they restrict O'Brien (and two others) from transferring to schools on the UMD schedule, they also forbid them from attending Vanderbilt, which just so happens to be enjoying a nice run of success under former UMD coach-in-waiting James Franklin. One might see some glimmer of rationality here, except for the fact the Terps will welcome three former New Mexico transfers who are hoping to play with their ex-coach (and new UMD offensive coordinator), Mike Locksley.
Doh.
What's that thing about people in glass houses not throwing stones? I think SI's Michael Rosenberg summed it up best:
My media colleagues seem to be split in their opinions of Maryland football coach Randy Edsall. One camp thinks Edsall is a self-serving, hypocritical turd. The other camp thinks he is a shameless, ruthless disgrace to his profession.
To borrow a phrase from Bill Simmons, "Yep, this is my college football coach."