Tuesday, January 15th, 2013 at 2:58 pm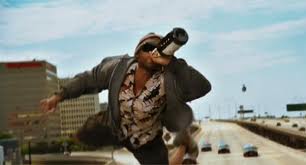 The good news for Denver is that athletes aren't getting shot left and right. The bad news is that Peyton Manning is starting to rub off on others like the flu. Now Mayor Michael Hancock is down for the count.
Hancock lost a bet to Baltimore mayor Stephanie Rawlings-Blake when the Ravens beat the Broncos in double overtime this past Sunday. He agreed that he would perform the Ray Lewis Squirrel Dance if the Broncos lost. That might take a while.
Well, it ain't happening. Not because Hancock is welching on the bet, but because he hurt himself Monday evening.

The mayor's spokeswoman Amber Miller says he was hurt "during pre-game warm-ups."

Hancock is "expected to be on the field in the second half, ready to carry out the game plan and fulfill his end of the wager," she said.
I'm from Baltimore and I never knew that seizure's medical name was the Squirrel Dance. I've seen plenty of squirrels in my time and travels. I've seen squirrels act normal, rabid and everything in betweeen. I've never seen a squirrel move like that. Perhaps it's a tribute to a concussed squirrel or one with a brain tumor. Either way, squirrels should be up in arms over Ray Lewis' portrayal of them. Where's their equivalent of Spike Lee? This is their Django Unchained moment yet they're busy stuffing their faces with nuts and jumping each other in parks. Squirrel on squirrel crime is a problem, people.
Rawlings-Blake would have been required to light the Washington Monument with blue and gold colors had the Broncos won. Clearly Hancock has no idea how to make a bet. What kind of trade-off is that? If he couldn't make her shake some ass in return, the citizens of Denver need to elect a new mayor.