Friday, January 4th, 2013 at 3:51 pm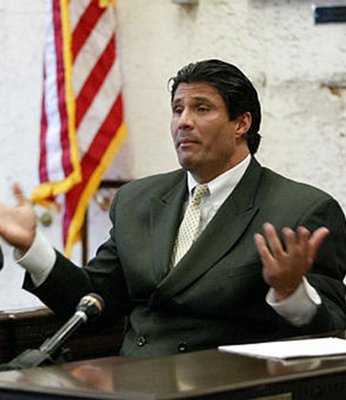 Let's get something out of the way. Not knowing about stuff has never been an impediment to holding political office. Who cares if Jose Canseco doesn't know how he would raise revenues without raising taxes let alone how to become a Canadian citizen? This should in no way prevent him from being mayor of Toronto.
The Star reports that Canseco is interested in replacing Rob Ford as mayor of Toronto.
"Can't do enough on council," Canseco, 48, wrote on Twitter. "I hear you are getting rid of mayor Ford on Monday. I love Toronto and will be glad to replace him."

He outlined his potential platform in tweets to the Star at 1:17 a.m. on Friday. "Ford too much trouble to be effective," he wrote. "Gotta fix budget, traffic, get new $ not from taxes, get more new businesses, and help schools."
Ford could get bounced from office on Monday after being found guilty of violating the Municipal Conflicts of Interest Act.
An interim mayor could be appointed by the City Council but the better option would be a byelection. Imagine the debates leading up to the election. Canseco, IKEA monkey, Snow, Yunel Escobar, and Jarious Jackson would make for the best debate since Admiral Stockdale ran away with the 1992 Vice-Presidential debate.
There is the problem of the Canadian citizenship requirement but not knowing shit never stopped Canseco in the past. No reason for that to change.
Canseco, born in Cuba, is an American citizen, and, thus, ineligible to run in Toronto. But in another tweet to the Star, he said he plans to "work out the citizen thing." His agent, Jose Melendez, added in an email that Canseco is not taking the matter lightly.

"He is serious about a run but as you know he doesn't know the procedure for citizenship," Melendez wrote.
If Gerard Depardieu can change citizenship with an executive order, Canseco can do the same. Yes I am implying that Canada works the same as Russia. Stephen Harper hates freedom like Putin.
Need exact guidelines of what I need to run for Toronto mayor and how long it takes to claim residency. #yeswecanseco

— Jose Canseco (@JoseCanseco) January 4, 2013
Perhaps it would help Canseco's case if he offered to donate a portion of his Ponce de Canseco anti-aging drink proceeds to the city of Toronto. Never mind that it doesn't exist. His Twitter pleas to Donald Trump, Warren Buffett and Mark Cuban should be all the assurance anyone needs to know that it's real.
Help a brotha out, America Jr.
H/T to Bruce Arthur
Update: Daniel Dale of the Star reports that Canseco is already waffling on the citizenship issue. Who will step up and save his fledgling candidacy? Anvil? Howie Mandel? Jason Priestley? Sum 41? Nah, Dream Warriors.