Thursday, January 17th, 2013 at 10:10 am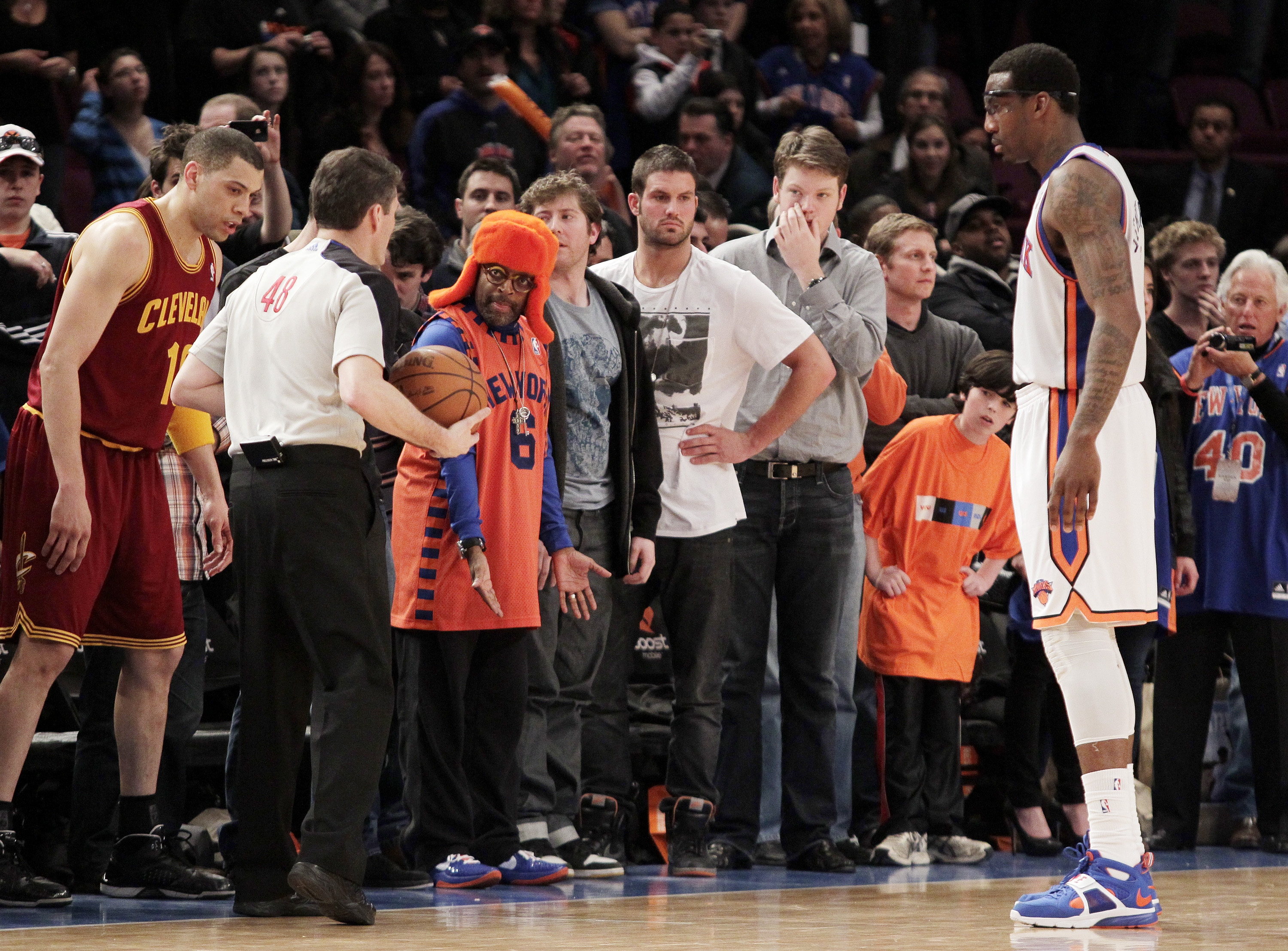 Spike Lee is in London popping off about the Knicks now that he's done messing up Oldboy. There's no reason to remake that movie.* I don't know how he found the time to do all of this in between telling us how Django Unchained isn't worth seeing even though he hasn't seen it. Apparently it's an insult to our ancestors. I'm sorry. We didn't cover that in the last black people meeting and it wasn't in the newsletter. Maybe I should read the individual emails instead of cruising the digest.
I can't entirely blame Spike as it's mainstream media that repeatedly runs to the same people for their opinions on all things black as though we've appointed them to be our spokespeople. Sometimes they just appoint themselves like Katt Williams. No doubt he's a great filmmaker (Spike not Katt). It's fine if he has beef with Tarantino or just doesn't want to see it. That's his choice but I don't want to hear that I shouldn't see it because it's on the Negro Politburo blacklist. They may send Blackwatch after me when they find out that I like hockey and Aussie Rules Football. I dug Silver Linings Playbook (not because Chris Tucker was in it although he was solid) and loathe Tyler Perry movies. Torche, Fidlar, Merchandise and Jessie Ware? Regular rotation along with yacht rock. On the other hand, I think mayonnaise was created by the CIA to keep the black man down. I heart all the Clans, X and Poison. I believe that only Mannie Fresh can bring back the Cash Money magic. I agree that hip-hop is on its death bed due to mainstream radio and major labels. 2 Chainz and Waka Flocka are disgraces to the rap game and Trinidad James is an abomination. He needs to be in the black people penalty box. Five minute major. Chief Keef is also terrible but I'm fascinated by him. It's just because I wonder how long he has until he gets killed. It's when not if. I'm a riddle wrapped in a mystery inside an enigma encased in chocolate. Either that or just annoyingly complicated and long-winded. I digress.
Spike, in London for the Knicks game, is up to his usual rah-rah thing which is usually harmless. However he made some interesting comments which caught my eye. He believes that Africa should embrace the Knicks since soccer is the #1 sport in Britain. Huh?
British fans have embraced the NBA, selling out game after game at the O2 Arena, the same venue that hosted the Olympic basketball final last year. But with soccer firmly entrenched as the No. 1 sport in the country, Lee appealed to Africa.

"I want all my brothers and sisters in the continent of Africa to support the New York Knickerbockers," Lee said. "The New York Knickerbockers are Africa's team. I just said that. Orange and blue."
This country seems to be full so I'll just take this continent. If Taylor Swift could place Africa on a map, she'd do a remix called Africa Will Never Ever Support The Knicks. You know why? No Africans. Africans don't support teams without Africans. It's a fact. How many times do I have to hear relatives tell me that no African should like Liverpool because they have no Africans and that means they don't want them?
Africans also like winners except in their own governments, militaries and police (family excluded). The Knicks may have been New York's team but they can't even dominate the whole city anymore. Perhaps they should worry about that, JR Smith up the club until 5 AM and Melo waiting by the bus because LaLa tastes like Honey Nut Cheerios. They'd rather support the Bulls even though Michael Jordan isn't there and wears mom jeans accented with a Hitler mustache. General Motors is a better GM than him and they went bankrupt. Spike Lee needs to just… PAUSE. See what I just did there? …I'll get my coat and see myself out.
* Great foreign movies are rarely honored when they're remade (read: dumbed down and censored) for American audiences. The Oldboy hallway fight scene is ridiculous and the ending? Forget it. Floored. See it. If you're still up for the remake, you're probably excited about another season of The Killing.