Who Wants To Fleece Mutombo: The Gold Smuggling Drama Continues
Friday, April 19th, 2013 at 2:37 pm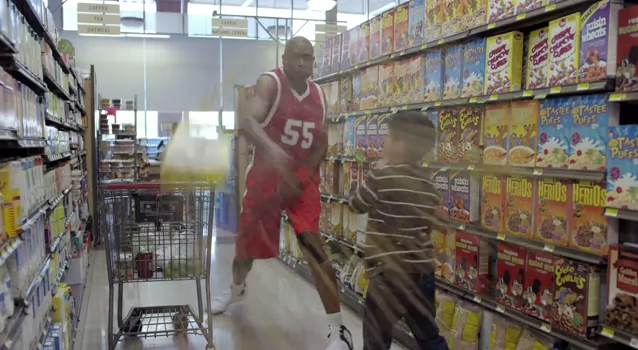 A former NBA All-Star. A Texas energy company chairman. A rough diamond trader. An indicted Rwandan warlord. An innocent flight attendant. This has the makings of an intriguing but short-lived Starz series or a terrible movie staring Bruce Willis but unfortunately this is the real life of Dikembe Mutombo Mpolondo Mukamba Jean-Jacques Wamutombo.
Kelly Shannon, a flight attendant, is suing Mutombo for unspecified damages after "suffering severe emotional trauma and post-traumatic stress disorder" following 42 days in Congolese custody.
According to her suit, flight attendant Kelly Shannon was part of the crew aboard the plane Mutombo chartered to fly his associates and $7 million to pick up the gold … back in February 2011.

In the docs, Shannon says their departure from the Congo was delayed for 2 days, and when the gold was finally being loaded onto the plane … armed guards showed up, arrested everyone, and held them at a hotel for the next 42 days.
Mutombo has one up on Mark Thatcher. He made it look as though he made out with nothing while avoiding arrest let alone the stain of involvement until much later. The incident doesn't seem to have affected his popularity.
The armed guards mentioned in Shannon's lawsuit were under the command of Bosco "The Terminator" Ntaganda who you might remember from such slaughters and rapes as Rwanda and eastern Congo. The former warlord is now a guest of the International Criminal Court at The Hague. Before his European sojourn, he was busy pillaging and terrorizing Congolese civilians and jacking gold shipments.
The Houston Chronicle broke the full story about Mutombo and his involvement in the gold smuggling scheme. The saga ended with Congolese officials arresting everyone on the plane except Dikembe's nephew, Reagan who left with Ntaganda's people and the gold.
It's unclear who ended up with the gold and money but it would appear that the Congolese government, Ntaganda and Mutombo made out like bandits while Shannon ended up with PTSD from being cooped up in a Goma hotel. Maybe she would have preferred Hotel Rwanda or a luxurious government jail. People never know when to quit when they're ahead. In the words of the gold smuggling humanitarian, "No no no!"
Tagged with: Bosco Ntaganda • Congo • Houston Rockets • International Criminal Court • Mark Thatcher • War Criminals
Filed under: Crime • Dikembe Mutombo • NBA
Like this post? Subscribe to my RSS feed and get loads more!