UFC on Fox marks the beginning of the end, although it's not really the beginning…whoah
Thursday, November 17th, 2011 at 8:00 am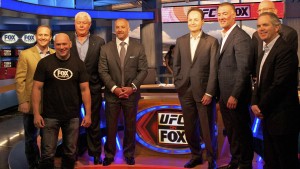 In an event that would mimic many of this author's previous sexual encounters, both in brevity, and disappointment, we gathered around our idiot boxes Saturday night to witness the next step in the castration of UFC.  We were treated to the Fox Sports theme so commonly associated with the NFL; to Brock Lesnar in a suit that he probably hasn't worn since he graduated from the University of Minnesota as an all-American wrestler. We were treated to people pretending to understand UFC. FOX was kind enough to display the rules just before the fight. We were treated to Curt Menefee pretending to give a damn about the UFC. We were treated to Dana White's tired schtick about how every fight he promotes is so spectacular. We were treated to a shot of Alistair Overeem ringside, in a suit, and no preliminary fights but about 35 minutes of introduction to Junior Dos Santos, and Cain Velasquez. Finally, we were also treated to a fight that lasted only 64 seconds when Dos Santos caught Velasquez with an overhand right to the back of the head and finished him off in ground-and-pound. That's not terrible; fight fans know that it can-and-does happen in the fight game; but why did we have to have all these ribbons and bows for this?
And with that, fans were given their first glimpse into the new UFC. A scrubbed, more corporate UFC. At the risk of sounding like another loser "internets" writer bitching about the "sell outs" from his mom's basement (I live in the garage, asshole!) I just couldn't shake the feeling Saturday night that the UFC I once knew is no longer.
Sigh. The mere thought of it is just enough to send me reaching for the Drano, for you see, the progression, or regression, began years ago, and has only accelerated since then. I was just in denial and refused to accept it, like when my kids were born.
Hardcore fans of the sport fondly recall the early days of Royce Gracie, Mark Coleman, Bas Rutten, and Kevin Randleman; or the wars of Ken Shamrock and Dan Severn. It's hard to argue that the Tito Ortiz/Ken Shamrock fights, although lackluster in delivery, didn't bring the sport over the top. Those fights, and the Liddell/Couture fights brought the "big fight" atmosphere to UFC that they needed. The infusion of bigger, stronger athletes, that enhanced the competitiveness of the heavyweight division; along with international stars like Anderson Silva and Lyoto Machida, helped, too.
But there was always something "backyard wrestlingy" about UFC that hardcore fans could hold onto and take comfort in, even as the walls started to crumble. The Mickey's commercials and logo peppered throughout UFC broadcasts; but eventually that became Bud Light. The off-color interviews, even in mainstream media, from guys like Brock Lesnar, Rampage Jackson, and others helped. Holding events in places like Hollywood, FL, with "stars" like Jenna Jameson, and the Undertaker, at ringside. Even having Joe Rogan and Bruce Buffer (Michael Buffer's real-life half-brother) as the voices of UFC seemed slightly bush league; and we loved it. Hell, for a little while I thought we had even reached a happy medium; for the hardcore fans we had fighters like Randy Couture, Rich Franklin, Chuck Liddell, Rampage Jackson, and Anderson Silva. For the newer fans, there were guys like Brock Lesnar, GSP, Ryan Bader, and others.
As those guys aged and started to retire a new breed of UFC fighter was emerging and honestly, it's been tough to watch. Now we are treated to features in the New York Times on Georges St. Pierre, a fighter who is fundamentally flawless but will almost never win a fight by K.O. or even draw blood against his opponents. In short, he wins too pretty. The Ultimate Fighter reality show has treated us to fighters like Rashad Evans, and Michael Bisping, is churning out guys who look and act like MTV Real World cast-aways.
The edge is gone, and the move to FOX has made me realize and, more importantly, accept that. It doesn't matter that I love FX Network (if they added like 2 hours of hardcore porn to their programming they would be the perfect network). Even UFC's television how was slightly off. After finally settling on Spike after being the The Nashville Network, and TNN, Spike decided to be the edgy male-audience network.
UFC became it's flagship programming. Turn on Spike on any given night and you can be treated to "UFC Unleashed" episodes, chopped up fights from recent UFC fights that educate viewers about the fighters and their fight history. Before bigger fights, UFC was producing training shows that showcased both fighters, showing their training, and doing confessional interviews that also revealed a great deal about each fighter. The production for these behind-the-scenes training promos were spectacular; often showing the grueling sessions and all-consuming training camps that fighters immerse themselves in in order to prepare for a fight. I didn't mind that the interviews, and answers, were becoming more canned, more predictable. Even the trash talking was becoming less pronounced, less bombastic. Fighters were prefacing their remarks with praise, and occasionally false idolatry of their opponents.
It's all part of the plan to sell to the mainstream American, the American who wants athletes that clean up nice, pose for pictures, and boxes of Wheaties, and may even tell your son, or daughter to say their prayers and eat their vitamins.
The last step in the transformation may have been the move to network television. Spike doesn't offer nearly as many viewers, and thus advertisement dollars, as FOX. Regardless of that, UFC is Spike, it's inextricably assocated with the network like the NFL on CBS or MLB on TBS. Boxing never left HBO and SHOWTIME and viewers can still find those networks, and just buy the pay-per-views when there's a fight that they want to cover. The sport has been ravaged by MMA but its home on premium cable, in my eyes, enhanced, rather then detracted from, it's appeal. It made it feel more exclusive, a more intimate spectacle.
But that's not the goal here. It never was.
The thing that Dana White desperately wants is mainstream respect and credibility. He looks at similar-entertainment/sport figures like Don King, or Vince McMahon and each is revered and then reviled often in the same breath. Saturday we gazed upon the next step in the transmogrification of our beloved UFC and the best thing I could say about that night was that Spike aired a "UFC Unleashed" marathon that I could turn to before and after the fight to get my fix.
I shudder to think about the near future when that might not be an option. How soon until Bellator starts on Spike?
Tagged with: Anderson Silva • Bellator • Brock Lesnar • Dana White • Georges St. Pierre • Randy Couture • UFC • UFC on FOX
Filed under: Uncategorized
Like this post? Subscribe to my RSS feed and get loads more!