Sunday, February 24th, 2013 at 11:24 am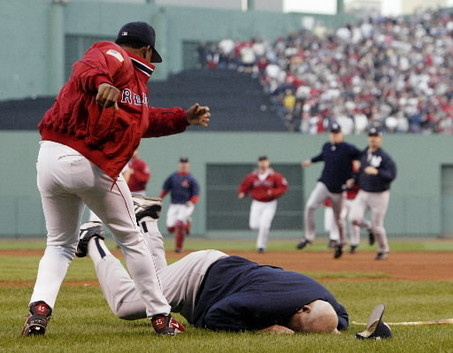 Baseball fights are worthless these days. Players lackadaisically jog out on the field, pretend to push each other around then slink back to their respective dugouts. You don't get any gems like this Orioles-Yankees brawl from 1998 or this Yankees-Red Sox beauty with the infamous toss of Don Zimmer by Pedro Martinez. That's more than famous for you kids out there.
Hats off to UC Riverside and Sacramento State for kicking off the baseball season with a proper brawl.
View more videos at: http://nbclosangeles.com.
Look how well Andrew Ayers of Sacramento State took that hook to the jaw. It didn't even faze him. Will Soto Jr. then came with the strong takedown of Eddie Young who threw the punch. Enjoy that, real wrestling fans. That's the last time you'll see one since it's no longer in the Olympics.
Take note, MLB baseball players. Now that's how you're supposed to fight! From now on that's how you fight!