Thursday, February 14th, 2013 at 5:51 am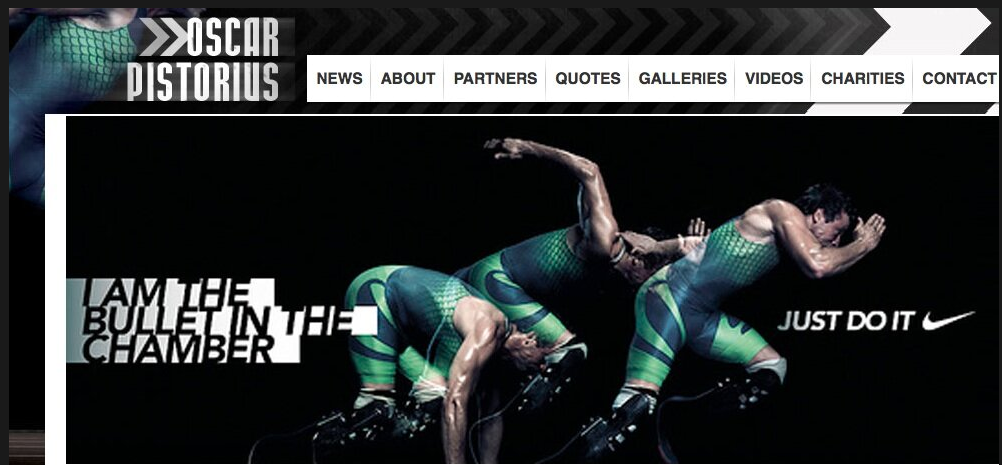 The unfortunate screen shot above was on the homepage of Oscar Pistorius until a few minutes ago. It was changed after he was arrested and charged with murdering his girlfriend this morning.
Details are still emerging but at this time reports are that he mistook his girlfriend, model Reeva Steenkamp, for a burglar and shot her four times.
Police spokesman Katlego Mogale had earlier said: "A 26-year-old man had been taken into custody for shooting a 30-year-old woman.

"The deceased was shot four times and died on the scene. It is believed that she was the girlfriend of the accused."

South African journalist Kalay Maistry told Sky News she believed his 30-year-old Steenkamp had come into the house to surprise him for Valentine's Day.

"He thought his girlfriend, who had come in to try to surprise him for Valentine's Day, was an intruder," Maistry said. "I think what this actually highlights is the level of fear ordinary South Africans have.

"This is a man who has gone to bed, it's an innocent surprise from a girlfriend… and the moment he thinks someone is trying to break in he grabs his gun. This has come as a complete surprise for a man who's considered a national hero."
Pistorius is best known for his fight to compete in the 2008 Olympics after initially being declared ineligible due to his prosthetic legs. He eventually became the first double amputee to compete in the Olympics in 2012.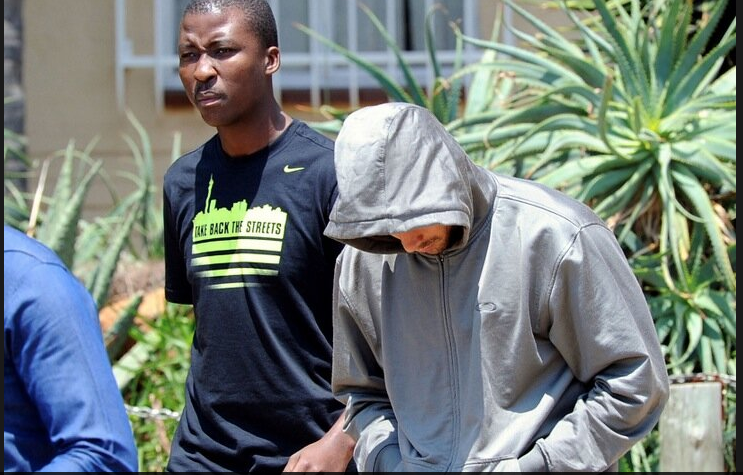 Update 1: Check this New York Times profile of Pistorius from January 2012 which includes a trip to a gun range.
"We should go to the range," [Pistorius] said. He fetched his 9-millimeter handgun and two boxes of ammunition. We got back in the car and drove to a nearby firing range, where he instructed me on proper technique. Pistorius was a good coach. A couple of my shots got close to the bull's-eye, which delighted him. "Maybe you should do this more," he said. "If you practiced, I think you could be pretty deadly." I asked him how often he came to the range. "Just sometimes when I can't sleep," he said.
Update 2: These tweets are from the past couple minutes.
South African police will be opposing bail for Oscar Pistorius and say there are "other witnesses" to the shooting.

— BBC Sport (@BBCSport) February 14, 2013
The South African police have just confirmed there have been "previous incidents" at Oscar Pistorius' home of "a domestic nature".

— Eurosport.com EN (@EurosportCom_EN) February 14, 2013
Police "surprised" over reports Pistorius thought his gf was intruder. "These reports didn't come from us" - police spox Denise Beukes

— Johannes Myburgh (@johannesmyburgh) February 14, 2013
It looks like this story is going to get more complicated and uglier as more details become available.
You'll probably have a better Valentine's Day than Steenkamp and Pistorius even if you're single and desperate so buck up, champ. It ain't that bad.