Anderson Silva may have finally stepped out from Steven Seagal's shadow
Tuesday, August 30th, 2011 at 7:45 am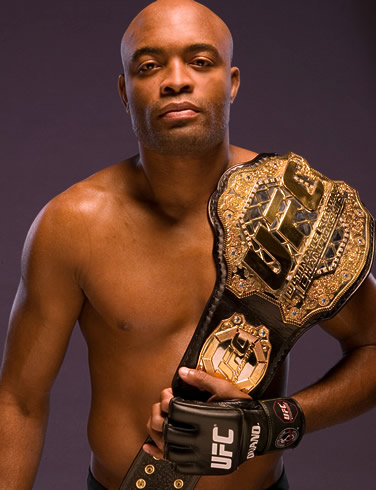 Brazilian import and Middleweight champion for the rest of his UFC career Anderson Silva was knocked by the die hards in the aftermath of UFC 126 because of the leak that Aikido bullshit artist Steven Seagal had been training him. Sure, he'd won 13 UFC fights in a row, but if we all trained with Seagal then we might have as well. "It's almost cheating!" they cried. Fortunately, Silva was given another chance to prove he can win in the UFC.
Make that 14 UFC W's in a row. Silva whooped dat trick on Yushin Okami by second-round TKO this past Saturday while residents of New Jersey grabbed two of every animal and built arcs out of plywood.
Courtesy of ESPN:
The win not only allowed Silva to defend his 185-pound belt for a UFC-best ninth time in a row, but he avenged a disqualification loss to Okami in January 2006.
Yeah, okay, Silva lost that fight because the rules of the fight were introduced to him like five seconds before the fight. He kicked Okami in the head while he was pulling guard; not exactly a decisive victory.

Silva is officially the greatest import to the U.S. since Camilla Alves before Mateo fired his previously-believed-to-be-defective-stoner man juice into her. President Obama visited Brazil in March to tout the unique economic partnership that the U.S. enjoys with Brazil. Coincidence? Yes, probably. Like how I banged your mom and then you were born (high fives frat bros, flashes penis to stewardesses).
Tagged with: Anderson Silva • Dana White • Steven Seagal • UFC
Filed under: Uncategorized
Like this post? Subscribe to my RSS feed and get loads more!