Tuesday, May 10th, 2011 at 8:30 am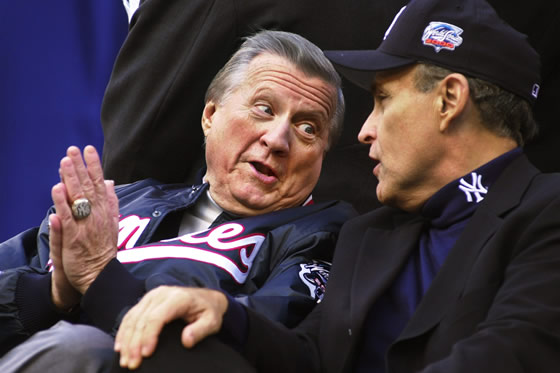 George Steinbrenner must be thanking Satan that he's dead and gone from New York. Imagine what Carmelo Anthony would do to him upon learning that the former Yankees owner was a snitch.
The New York Times' Richard Sandomir reports that Steinbrenner worked with the FBI on several cases in the 1970s and 80s. He "cooperated with the Federal Bureau of Investigation on national security cases and was willing to let it stage an organized-crime raid at Yankee Stadium". President Reagan granted him a pardon in 1989 for his convictions for illegal contributions to Richard Nixon's 1972 presidential campaign as well as obstruction of justice.
Find the FBI documents here.
Steinbrenner began helping with "a matter of vital interest" in the late 1970s. He quickly moved up to involving himself in thwarting terrorist plots that put him and his family in danger. I assume, without further details, that the situation was similar to Munich where he played the Ehud Barak role.
It gets better. World collide. Sandomir also notes that Steinbrenner attempted to get a pardon using the vaunted "Was That Wrong" excuse.
"Applicant stated that he would not have allowed the $25,000 corporate contribution if he had known it was illegal," the memo said. It said that he had contributed $75,000 personally to Nixon's campaign and would have made it $100,000 if he knew he could not make the corporate contribution.
Eat that, Costanza. Steinbrenner finally got his pardon but at what cost? American hero or rat-faced snitch? What would Billy Martin have said? Wait a minute. What do we really know about the night he died? He kept coming around. Maybe he heard too much. Watergate, terrorists, Billy Martin arresting people who try to piss during the 7th inning stretch. The next time you talk about conspiracies involving the Yankees, you can tell everyone it's not jealousy. It's the truth.