Ryan Braun Tumbles Away An Inside The Park Home Run
Thursday, September 1st, 2011 at 7:45 am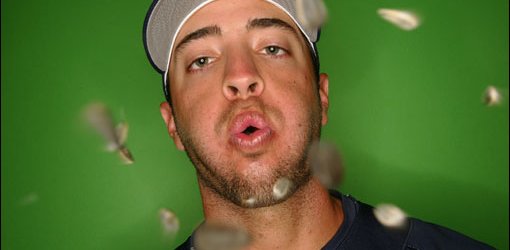 Inside the park home runs are not a common occurrance in Major League Baseball and Milwaukee Brewers' outfielder Ryan Braun was ohhhhhhh so close to getting his very first one. He could've had it quite easily actually, but for the little tumble you are about to see Braun take after he rounds third and attempts to make his way home. Poor guy, I would almost feel bad for him if I wasn't laughing so hard right now.
As the great Maxwell Smart would've  said, "
Missed it by that much.
"
To add insult to injury, the Brewers lost the game to the St. Louis Cardinals by a score of 8-3.
Random sports trivia while we're talking about inside the park home runs, who is the MLB leader in inside the park home runs? A player named Jesse Burkett with 55 inside the park home runs. Burkett played for the Giants, Spiders, Perfectos, Cardinals, Browns and, his last team, the Boston Americans from 1890-1905. He was inducted into the Baseball Hall of Fame in 1946.  Ty Cobb and Honus Wagner are both tied for 3rd with 46 inside the parkers. Honestly, no one on the list of top 25 inside the park home run hitters was born in the 1900s. Lost art I guess…or fielding has gotten a LOT better these days.
Trivia from Baseball-Almanac.com
Tagged with: Baseball • Milwaukee Brewers • MLB • Ryan Braun • St. Louis Cardinals
Filed under: Milwaukee Brewers • MLB
Like this post? Subscribe to my RSS feed and get loads more!