Karma is not a bitch, Lebron James, but you are
Wednesday, May 18th, 2011 at 1:51 am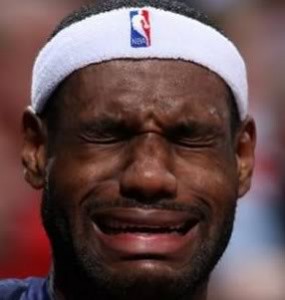 Do you know those flashback scenes from Terminator when Kyle Reese fades out and you see the sky is pitch black and there is rubble and bodies everywhere? That's what Cleveland's downtown looks like in 2011. The city is bleeding population, and jobs, and the most famous athlete since Jim Brown bolted for better weather, and to play with his butt buddies, Dwayne Wade, and Chris "Me Too" Bosh.
In January, evildoer Lebron James tweeted out the now-infamous "karma is a bitch" tweet. Lebron denied he was talking about his former team, who were catching a beating from the Lakers that eventually shook out to 112-57, but Lebron is a goddamn liar so nobody believed him. Sunday, the Bulls handed the Miami Heat a 21-point beating that should have been filed in a police report as an assault. Tuesday night, Dan Gilbert delivered the first good news on the CAVS front in some time. Don't call karma names, Lebron!
Taste the happy, ESPN:
The Cavs will select first for the first time since 2003, when they drafted James out of high school.

He left for Miami last summer and the Cavs tumbled to the second-worst record in the league, but they will have two top-four picks next month as they try to back owner Dan Gilbert's boast that they would win a title before James. They already had their own pick and acquired another at the trade deadline from the Clippers in the deal for Baron Davis.
It is also worth noting that Cleveland Browns players Joshua Cribbs, and Joe Haden were there, along with Bernie Kosar. Cribbs and Haden were rooting for the CAVS, Kosar was going to ask for a loan from Dan Gilbert.
Tagged with: Boston Celtics • Chris Bosh • Dwayne Wade • Lebron James • Miami Heat • NBA • NBA Playoffs
Filed under: Uncategorized
Like this post? Subscribe to my RSS feed and get loads more!