Wayne Rooney and Didier Drogba Are Down With Hoecakes Like AC's Down With OJ
Tuesday, March 29th, 2011 at 8:30 am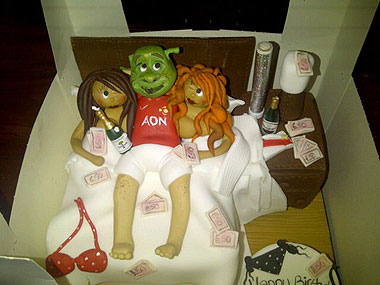 You can't keep a good ho down especially on her birthday. What does a ho eat on her special day? Hoecakes of course! Jenny "Juici" Thompson, known only for servicing Wayne Rooney for money, celebrated her birthday with a cake commemorating their hotel rendezvous with her friend Helen Wood.
The cake came complete with champagne bottles and cash. Thompson, sorry Juici, loved the cake especially the marzipan Shrek head.
A party attendee said,
"It's a shame there were no footballers at the party - that would have been the icing on the cake. But Jen had a great night. She looked amazing in a low-cut dress and had dyed her hair red for the occasion."
Silly customer. He or she should know the footballers only come at the end of the night when hoes are involved. Why would they show up until it's time for some action? There's no reason to be around her when she's off the clock.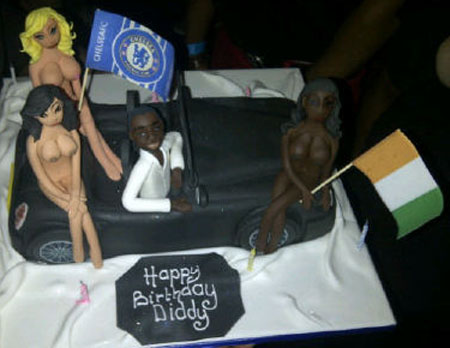 Chelsea's Didier Drogba was not about to be outdone by Shrek. His birthday/ho cake also came with some ladies on it. Since he keeps it classy, it was presented to him by three topless models. Dom Perignon, Cristal and Grey Goose flowed down an ice luge and kept everyone properly lubricated. The models ended up at Ashley Cole's table so you know lubrication was the word of the night. Just don't ask him to spell it.
The Sun also reports that Everton's Jack Rodwell (strong porn name) is attemting to woo Juici by texting her naked pictures of himself. Dude, you're doing it wrong. She's a prostitute. Then again maybe he's old school and wants to court her before he leaves the money on the cabinet after asking her to dress up like a schoolgirl and wear a wig like Fellaini's. That gets him ready to roast.
** You gotta love our dated references. Since we referenced it, here's your morning musical interlude.
Natural Born Killers by Dr. Dre and Ice Cube
Tagged with: Chelsea • Didier Drogba • Dr. Dre • Ice Cube • Manchester United • Natural Born Killers • Soccer • There's Some Hoes In This House • Wayne Rooney
Filed under: Soccer
Like this post? Subscribe to my RSS feed and get loads more!