Tom Coughlin burns the Jets
Thursday, March 29th, 2012 at 7:35 am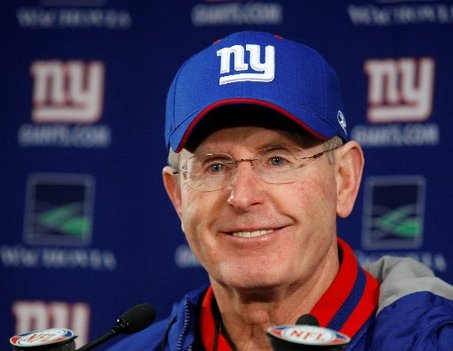 Winning a Super Bowl can allow a NFL head coach a little bit of candor in his public statements.  Winning two super bowls allows a coach a ton.
New York Giants head coach Tom Coughlin took full advantage of that yesterday when he couldn't resist taking a jab at the "cross-town" rival New York Jets and their recent player acquisitions (ie: Tebowmania in NYC). Here's what Coughlin had to say about the Jets recent acquisitions:
"You know who won the Super Bowl, you know who the world champions are," he said. "Whether we're on the front page every day or not, it's not that important. New Yorkers know."
Ouch, little bit of a burn there or what? The best part about that statement is that it pretty much rings true. The Giants go about their business, generally not making too many crazy headlines (minus Brandon Jacobs i guess) and they just go and win two Super Bowls in five years. The loudest Giants in the media are ex-Giants Tiki Barber and Michael Strahan.
Meanwhile, over in Jets country, you've got Rex Ryan flapping his gums every other week, talking about winning Super Bowls like he is a fat and sober Joe Namith, showcasing the entire team on HBO's Hard Knocks, making free agent signing splashes that, all combined together…gets them essentially nowhere. Nowhere, that is, if you consider your season to be a bust if a Super Bowl ring was not won.
Anyway, it is nice to see Coughlin finally give up a little of the "hard ass" persona in his interviews with the media. Generally this is a guy who can make Bill Belichick look like charming. Maybe he's finally getting soft in his golden years?
If so, I am loving it.
Tagged with: Michael Strahan • New York Giants • New York Jets • NFL • Rex Ryan • Tiki Barber • Tim Tebow • Tom Coughlin
Filed under: NFL
Like this post? Subscribe to my RSS feed and get loads more!