Everyone Needs To Get Off Mike Ashley's Back
Tuesday, February 1st, 2011 at 12:35 pm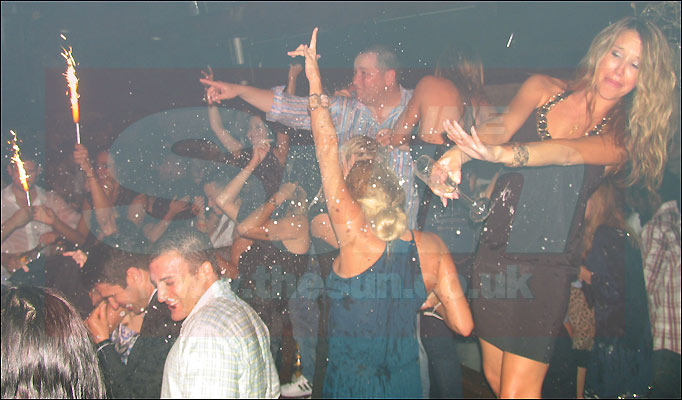 Last time we saw Newcastle owner Mike Ashley, he was tearing up Pink Elephant and buying 175 bottles of Cristal while Rome burned. Now fans are giving him a hard time for selling striker Andy Carroll to Liverpool. They need to back up off him like Ed Lover and Dr. Dre. The man has issues.
Newcastle managed to take Liverpool for £35M in exchange for Carroll. One would think the Scousers would have seen it coming considering how robbery is their forte. No way he's worth that amount despite that being what the market will bear.
Carroll claimed he was forced out. Of course he could have refused to sign a new contract but everyone knows he's full of shit like Harry Redknapp. He should be happy. He's now in a city that embraces a criminal like him. Meanwhile Newcastle fans are left holding the team's official calendar which features Liverpool's newest striker as Mr. February.
That's not the worst of it. Newcastle supporters should know better if they think Ashley is going to reinvest the proceeds from the Carroll sale. He would have bought another striker to replace him before the transfer window closed. He's got more important things to do like lose nearly £1M playing craps.
The Newcastle United owner blew the cash on a night out with team manager Alan Pardew.

At first he hit a winning streak and was soon up £130,000.

Then his luck turned and after two hours' further play at the craps table he was down an eye-watering £970,000.
Apparently Ashley didn't care. He still has £889M to lose and he'll get a decent payout from balloon payments when Newcastle gets relegated again. What's the lesson here? Alan Pardew makes everything he touches a loser. Somewhere Chris Hughton is laughing.
Seriously, Ashley is going to ruin the club he claims to love through idiotic decisions. For all the talk about Liverpool's ownership issues, Newcastle has the most to worry about over the rest of the season and into the next. He fired Hughton who brought the team back to the Premier League and had them playing well. He replaced him with a manager who is a perennial loser and was fired from a lower league job because he couldn't get it done there. He can't be trusted to buy players who would help the team long or short term. It's a recipe for disaster.
Photo: The Sun
Tagged with: Andy Carroll • England • Gamblor • Liverpool • Mike Ashley • Newcastle United • Premier League • Soccer
Filed under: Uncategorized
Like this post? Subscribe to my RSS feed and get loads more!