Mike Tyson To Open Chain Of High-End Kosher Restaurants
Wednesday, November 17th, 2010 at 2:33 pm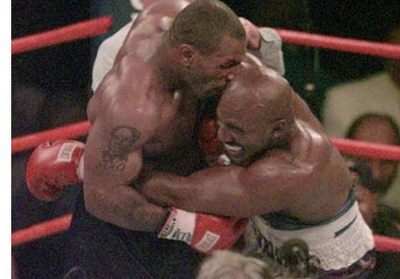 "Sir, some Manischewitz to go along with your pigeon steak?"
Who knew Mike Tyson was down with the kashrut? He's come a long way from throwing down on Evander Holyfield's ear which is definitely not kosher.
Tyson is allegedly in talks with Moshe Malamud, chairman of the Franklin Mint collectibles company, about opening a chain of high-end kosher restaurants. They recently met to discuss the idea at a New York restaurant.
The former champ, who was Muslim at last check, went vegan earlier this year. While it may not have "been long enough for [the] kind of Zen shit" that comes from vegan "explosions of energy", Tyson swears he's done eating meat.
Anyone who thinks Iron Mike can't pull this venture off needs to kill that noise. Remember how he handled tea service?
Tyson does have a history of being taken for his money by business associates. He might want to watch Malamud. You've seen those Franklin Mint commercials. Would you trust anyone who sells a quarter for $2? No way, Jose. Expensive quarters and cannolis can step the fuck off like Gigantor.
H/T to Eater for the heads up.
Tagged with: Boxing • Evander Holyfield • Kashrut • Kosher • Mike Tyson • New Jack City • Restaurants
Filed under: Uncategorized
Like this post? Subscribe to my RSS feed and get loads more!