The Tiki Barber Goodwill Tour Continues
Friday, June 24th, 2011 at 1:04 am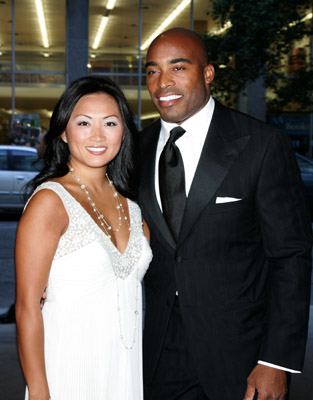 Let's recap; father of the year Tiki Barber would like to resume his dormant NFL career because of his pending divorce and failed broadcasting career desire to compete again. Barber shit all over his teammates, and his former coach. He smugly flaunted his Today show gig until they dropped him like 3rd period French. Now alone (not counting his 24-year-old girlfriend), broke, and hated by everyone, Barber is trying to rebuild his shattered image. Too bad, some of the guys he played with, and against, also have platforms to express their opinions.
Make me smile, NFL.com:
"I didn't think much of him when he did play," Sapp said. "I mean that's the whole point. He was a fumbler all the way through his life, and then all of a sudden, somebody taught him how to hold the ball up high and then he (left the Giants) and said, Eli (Manning) can't lead them and they'll never win a championship.

That kind of lends to who I'm talking about. This is the same guy. This is all encompassed into the same thing. There's no way you turn your back on your teammates that block for you, that gave you the ball on short fields and did whatever they did. … There's still no reason for you to attack your teammates."

Strahan didn't disagree with that assessment.

"Sapp is 100 percent right," he said. "Only thing is, if it comes to playing football, he can play."
To reiterate, Tiki Barber, 36, would like to resume his NFL career after five seasons away. He apparently has some interest from a couple NFL teams and should get down on his knees and pray to the NFL owners for opting out of their deal with the Players Association, inevitably delaying free agency and possibly training camp, and making his return much more likely.
Tagged with: Michael Strahan • New York Giants • NFL • Tiki Barber • Warren Sapp
Filed under: Uncategorized
Like this post? Subscribe to my RSS feed and get loads more!