Mazel Tov! Iowa Hawkeye Track Will Not Be Outdone By The Football Team
Wednesday, March 9th, 2011 at 8:43 am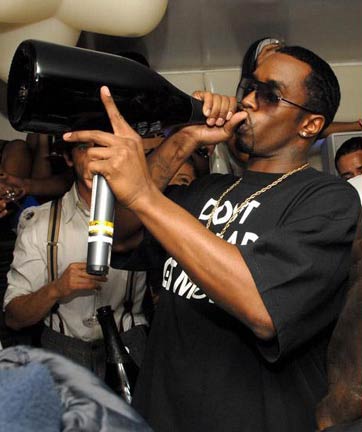 It just warms my heart when a rapper christens some part-time sucka's head with a champagne bottle as if it was a new ocean liner. Puff Dad…Puffy…P. Didd..whatever he calls himself these days would be thrilled with Iowa's Graham Valdes.
Valdes, a member of the track team, was arrested and charged with assault causing bodily injury after cracking a man in the head with a champagne bottle as if his name was Steve Stoute.
According to a criminal complaint, Iowa City police were called to Sauce, a liquor store at 108 E. College St., at 1:53 a.m. Saturday for a report of a man hit with a bottle. Upon arrival, officers found a man "bleeding profusely" from the top of his head and a shattered champagne bottle at his feet. The victim had a large cut on the top of his head and nose which required stitches and further medical attention, the complaint said.

The victim told police a tall, red-headed man hit him with a bottle as he was trying to leave the store after his friend had urinated in the store. The alleged attacker was still on scene and matched the description from the victim, police said.
Valdes alleged the man was "pushing past people to exit the store and he felt threatened". He was scared because the guy wanted to leave the store? Why not get out of his way and let him go? Oh I'm sorry. No real G would move out of someone's way. You think Da Brat or Juvenile would have avoided confrontation? Move, bitch! Get out the way! Come get some Moet upside that beady ass head, nucka!
A liquor store called Sauce? Pure genius. At this rate, Iowa may move to the SEC. They can definitely compete with Florida and Tennessee when it comes to crime.
Tagged with: Crime • Da Brat • Iowa Hawkeyes • Juvenile • Puff Daddy • Track and Field
Filed under: Uncategorized
Like this post? Subscribe to my RSS feed and get loads more!