Only people that know Ben Roethlisberger hate him
Monday, January 31st, 2011 at 11:25 pm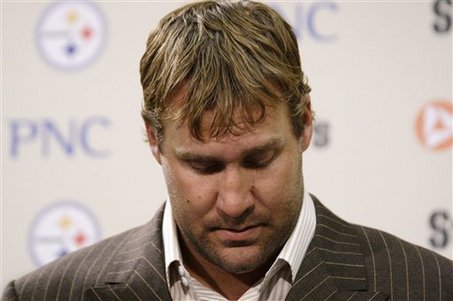 I don't read Monday Morning Quarterback by Peter King, unless it's first filtered here. But, serendipity has permitted Peter King to uncover perhaps the most interesting pre-Super Bowl storyline. Well, that and that little matter about the 2011 season going the way of NBC's Joey.
Ben Roethlisberger has twice been accused of sexual assault, and so, he was suspended for six games this season by the NFL, which was later reduced to four games. Roethlisberger, who apparently believes that sexual assault is not worth more then a couple games riding the pine, thought that the penalty was unduly harsh. NFL Commissioner and "workaholic" Roger Goodell spoke with a number of Roethlisberger's teammates and basically confirmed what every casual NFL fan already knew; most people who know Big Ben think he's an asshole.
Tell me again how tough it is to travel to fun places and talk to famous athletes Peter King:
Goodell said he "doesn't feel any connection" with Ben Roethlisberger. Not too surprising there. I'd always heard Roethlisberger felt he got railroaded on his six-game suspension that was reduced to four. But Goodell said he had "some very tough times" with Chicago defensive tackle Tank Johnson before suspending him, and that Donte' Stallworth chafed when first told he'd be suspended for a year after a car Stallworth was driving struck a man on a Miami causeway and killed him, with the player being legally drunk at the time.
"The one thing I take a little bit of issue with is when guys tell me they're being screwed," Goodell said. "[Most often] they're not recognizing they have a role in it." Regarding Roethlisberger, Goodell said when he was investigating what to do with the quarterback, he talked to "I bet two dozen players … Not one, not a single player, went to his defense. It wasn't personal in a sense, but all kinds of stories like, 'He won't sign my jersey.' "
Great job, Peter King. Somebody deserves a treat (dangles sardine in front of King until he kneels, and claps his flippers)
But is this even really news? Former Steelers Linebacker Joey Porter called out Roethlisberger in 2006. It's not like it was a secret that Roethlisberger is a douche.
As we already know, America loves winners. Therefore, you'll never guess what happened this week during Super Bowl press conferences when Steelers teammates were asked about Goodell's assertion.
Drop my jaw to the floor ProFootballTalk:
Steelers linebacker James Farrior, however, said it's simply not true for Goodell to claim that no one on the Steelers went to bat for Roethlisberger.

"I was highly upset about the whole situation," Farrior said. "When Roger Goodell came to us in the preseason, I think I was the guy that asked him a lot of the questions about Ben. I was pretty upset about it. I really didn't get any answers from him that I was looking for, but I was definitely disappointed in what the verdict was and how they proceeded. I definitely didn't think he should be suspended four games."
Poppycock! Roethlisberger has always been popular with his teammates. Let's hope Roethlisberger uses his newfound people skills to diffuse the situation and doesn't try to "force" the issue with his teammates before the big game.
Tagged with: Ben Roethlisberger • Fun with Peter King • James Farrior • NFL • Peter King • Pittsburgh Steelers • Roger Goodell • Super Bowl XLV
Filed under: Ben Roethlisberger • NFL • Super Bowl • Uncategorized
Like this post? Subscribe to my RSS feed and get loads more!