VICE Finds The One, True Religion And It Is Diego Maradona
Tuesday, October 12th, 2010 at 10:15 am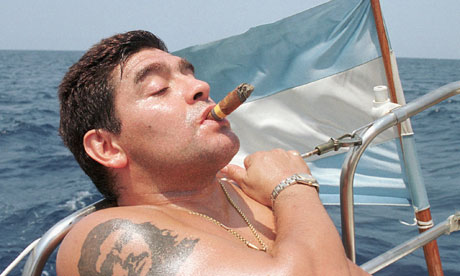 The Deuce, for one, would like to welcome our new mascot overlord. We're thrilled that it turned out to be Diego Maradona. The only other one we would have accepted is Aaron from Eastbound and Down.
Many passionate followers of soccer (myself included) will tell you that it's a religion. There's no Kierkegaard-style leap of faith needed to believe in what you can see, hear and feel. It's absolutely an obsession but one that you pursue without the hocus-pocus and child molestation despite what you might see from Lionel Messi and Arsene Wenger respectively.
VICE traveled south to Rosario, Argentina to attend Mass at the Church of Maradona. This is more than a fan club. It's an actual religion. Watch and see for yourself.
Not everyone deserves this kind of worship but there are those worthy of this level of praise. Titus Bramble, Eric Djemba Djemba, Jean-Alain Boumsong, Winston Bogarde, Oliver Miller, Glenn Davis, Jeff George (only if you're Jason Whitlock), etc. You know. The greats.
Tomorrow we'll travel to Sao Paulo with VICE to check in on Corinthians and their massive fan club which I had the privilege of experiencing in person years ago.
Go to VBS.tv for more on the Church of Maradona and other videos from the We Are Eleven series in addition to the usual hotness one expects from them.
**If you're in the NYC area and want to attend "services", check out Lunasa on 1st Ave. between 7th St. and St. Mark's (8th St.) in the East Village. I'm usually there with the rest of the New York Blues (Chelsea). All are welcome no matter who your team. However feel free to hit us up here if you support a different club and want to commiserate with your peoples about how shit your team is. Some supporters groups have different home bases. We'll do our best to put steer you towards the right bar/pub/Bellevue depending on who you support.
Tagged with: Argentina • Diego Maradona • Religion • Soccer • VBS.TV • Vice • World Cup
Filed under: Uncategorized
Like this post? Subscribe to my RSS feed and get loads more!