Finding a Diamond in the Football Rough
Tuesday, April 27th, 2010 at 9:13 pm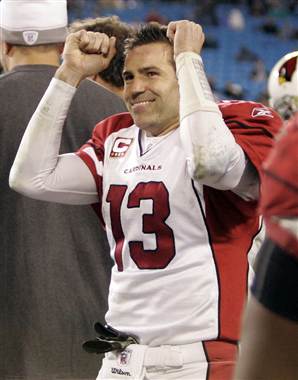 After all of the 255 names were called at the NFL draft last week, there were many players who would have loved to be Mr. Irrelevant.   There are many players who would have appreciated sitting sitting in the green room looking awkward and embarrassed while waiting for their name to be called.  Because, better late than never, right?  Think about it.  They get together with their families, friends, or whoever.  They might even have a party.  Then, they slide further then where they thought they'd be.  So they wait.  And then the team they thought would take them passes to take a better player that was still on the board for the simple reason that some GM, or owner, was smoking some crack.   So they keep waiting.  And then they wait some more.  This year, the torture waiting stretched over three days. 
But, for many teams, and for many players, the draft is just the beginning of the search to figure out who will be a part of the following season's roster.  Before the draft ends, before the ink is dry on the contracts, before a single bite of a porterhouse steak is eaten, every NFL team is looking on their draft board to see which players were still waiting to celebrate.  Then, the mad dash to sign the undrafted guys begins.  For some players, all they can hope for is a try-out.  For others, the draft may not even be over when they are celebrating the relief that came in the form of a phone call from a team wanting to sign them if they remain undrafted.  Some teams have even given try-outs to guys who never played football.  Antonio Gates played basketball for Kent State and Vince Papale was a 30 year old high school teacher and bartender before he was Invincible.  This year, the Patriots are giving a try-out to a wrestler, John Wise, since it worked out for Belichik with Stephen Neal. 
For some players, remaining undrafted is a blessing in disguise.  They often get the same $25,000 signing bonus as the players drafted at the end of the 7th round.  But, there is an added addition.  They may be able to choose where they land.  When there are multiple teams calling with offers, they get to choose where they end up.  So, if they are a safety and one of the two team's are deep at the safety position they can choose to go to the other team.  I am sure last year Matt Stafford might have thought twice about heading to Detroit.  Remember that game where his dead was hanging at his side and they STILL left him in the game?  Yeah, I think he would have preferred a choice, don't you?
Undrafted free agents are also the keys to success for many teams .  For one, they're cheap.  Many teams sign contracts worth $30, $40, or even $50 million for their first round pick.  With all those eggs in that one basket, many teams want to try and get more bang for their buck.  Second, they have something to prove.  After the draft, these players dreams are riding on luck, heart, and hard work.  Third, behind every draft, is a list of players who never amount to much and another list of undrafted free agents who end up making the pro bowl, or many pro bowls, during their career.  Let's be honest, even the teams who have successful drafts year after year miss every now and then.  Undrafted free agents have to compete for a starting spot just like everyone else.  So, there are many who become success stories.  Just imagine a coach's satisfaction after his dollar bin find turns into a game day contributor, nevermind a pro bowler.  
The list of undrafted free agents who have had successful careers is a long one.  But here's a list of a few who made the pro bowl in the past few seasons. 
Tony Romo (Please note, this is the only time, I repeat, ONLY TIME, I will say anything remotely positive about Romo.)
Wes Welker
Kurt Warner
Miles Austin
Antonio Gates
Willie Parker
Antonio Pierce
Adam Vinatieri
Shaun O'hara
That being said, there are some teams who are more successful at picking up undrafted free agents than others. As much as I dislike Mr. Burns, I mean Bill Belichik, he has a proven record of success, shocker, when it comes to signing undrafted free agents.  The league average is 13 per team.  The patriots had 18 on their roster last year.  And, so far, they signed another six this year.   But this year's leader going into rookie minicamp are the New York Giants.   The Giants have signed 12 undrafted free agents and have another 25 undrafted players stopping by the stadium for a try-out. 
So, the draft is over but the work has just begun.  And the next time you are talking with your friends about how much money some team wasted in the 2010 NFL draft on some garbage first round pick, be the person who mentions the steal from the bottom of the abyss only to be rescued by some team who took a chance.
Tagged with: Bill Belichik • football • Kurt Warner • Mr. Burns • New York Giants • NFL • NFL Draft • Tony Romo
Filed under: Uncategorized
Like this post? Subscribe to my RSS feed and get loads more!