Your 2010 American League Magnum Opus
Tuesday, March 30th, 2010 at 12:27 pm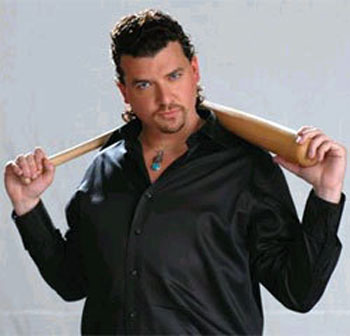 A few years ago I was the Sports Editor for my graduate school's student newspaper. Every spring, I'd write 5,000-word baseball previews that were not only full of premium analysis and expert opinion, but they were also hilarious (to me). I'm pretty sure nobody read them. In actuality, I was fortunate enough to have an Editor-in-Chief who gave me that much space because she either didn't care or was really a huge baseball fan. I can't remember which.
Anyway, I think it's time to bring some of that well-reasoned analysis back. Maybe not in the form of a 5,000-word Magnum Opus, but seeing how Opening Day is almost upon us, it's time to make some predictions. And really, could my predictions be any worse than John Kruk's? I think not.
We'll do the American League today and the National League later in the week.  And since there is no East Coast Bias at the Deuce of Davenport, we're going left to right, baby (*denotes Wild Card winner):
American League West
Los Angeles Angels
Texas Rangers
Seattle Mariners
Oakland Athletics
Coming into 2010, you can make an argument for each of these teams to win their respective divisions. Seattle's big offseason was well-hyped, but I'm not buying it. Beyond Felix El Cartelua and an already-injured Cliff Lee, the rotation is not particularly impressive and neither is the offense. Sure, the defense will be stellar, but you have to score runs at some point. Relying on Milton Bradley to stay on the field and bat cleanup for 140 games is about as likely as a Pink Floyd reunion concert: don't count on it. The Angels quietly added Hideki Matsui to compliment a nice offense and Joel Pineiro to round-out a rotation that pitched in the ALCS last year. This division is Anaheim's to lose, with Texas and its young talent coming on strong. Oakland will be a pitching and defensive monster, but offensively, they will suffer the same fate as the M's.
American League Central
Minnesota Twins
Chicago White Sox
Detroit Tigers
Cleveland Indians
Kansas City Royals
They say in baseball that the heart of every great baseball team is up the middle. If that's the case, then the 2010 Twins should be pretty good. Reigning AL MVP Joe Mauer will lead a team that has two very capable veterans at second (Orlando Hudson) and short (JJ Hardy) and an up and coming centerfielder (Denard Span) who had an on base percentage (OBP) of .392 in 2009. If that's not enough, they've got another MVP at first (Justin Morneau) and a guy with 564 career homeruns at DH (Jim Thome). Throw-in a solid rotation with a revamped Francisco Liriano at the backend, and you've got a pretty formidable team. Yes, they lost their closer, but their bullpen should be good enough to get them to October. Note to Mr. Kenny Williams: Dodger cast-offs Juan Pierre and Andruw Jones does not represent an offensive upgrade. In Detroit, Dontrelle Willis is competing for a spot in the rotation. I love the D-Train, but I'm sorry, that's not going to get it done. I wish Cleveland GM Mark Shapiro would put Grady Sizemore out of his misery and trade him. He deserves better. So does reigning Cy Young winner Zach Greinke, for that matter.
American League East
New York Yankees
Boston Red Sox*
Tampa Bay Rays
Baltimore Orioles
Toronto Blue Jays
This is a division of behemoths, plain and simple. Toronto fought the good fight long enough but decided to finally give in and accept their fate. Baltimore, on the other hand, seems ready to step up and take their shot (or beating, depending on how you look at it). While the O's are going to struggle to get to .500, this isn't your typical 4th place team. That's because the teams in front are three very well-oiled, albeit different, baseball machines.
Short on experience but long on talent, Tampa has the bullets to go after Boston and New York. This 2010 Rays team may be the best yet, but to me, their pitching isn't quite there. For some reason, the much-ballyhooed Matt Garza hasn't been able to put it together for an entire season. Wade Davis, Jeff Niemann and David Price show tremendous promise, but the likelihood all three of these young guys are able to pitch consistently well is not great. If they falter, Jeremy Hellickson isn't too far behind, but he's even greener.
Setting the trend for pitching first, defense second, and everything else third, the Boston Red Sox will attempt to beat their rivals with an incredible cache of starting pitching talent and superior defense. The offense has potential in the rebirth of Adrian Beltre and David Ortiz as well as a pretty deep bench. But in the AL East, you gotta slug, and the Red Sox will struggle to do that.
New York is perhaps the polar opposite of the Rays and Red Sox: what you see is what you get. A relentless team of professional pitchers and hitters, they will score runs and pitch effectively. Whether or not they can do so for an entire season is the real question. Talent-wise, this team is better than last year's World Champions, but the Core Four and their colleagues are almost all on the wrong side of 30. If any of those guys miss a significant amount of time, or begin to show their age, the Yankees will struggle.
So there it is in less than 1,000 words. Check back for the NL and playoff predictions later in the week.
Tagged with: 2010 Preview • American League • Behemoths • Kenny Powers • Magnum Opus • MLB • Predictions
Filed under: Uncategorized
Like this post? Subscribe to my RSS feed and get loads more!