Thursday, April 28th, 2011 at 1:51 am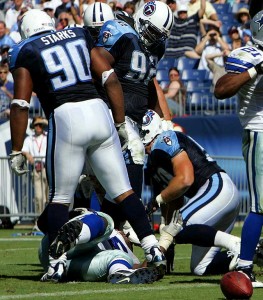 Washington Redskins bust defensive whale Albert Haynesworth was recently charged with misdemeanor sexual abuse stemming from an incident at a birthday party at the W Hotel in Washington, D.C. in mid-February (Oh, well, I guess my invitation must have been lost in the mail!). Apparently, the waitress had her hands full with dishes so Big Al figured that placing his credit card between her cleavage would be an empowering gesture to cap off what was likely to have been a thrilling evening of being objectified and ordered around like Princess Leia in Return of the Jedi.
Although Haynesworth's work ethic, maturity, and cardiovascular shape have been challenged and criticized recently, he has not shied away from his belief that we are all entitled to be with whomever we want, regardless of race.
Hum "Lift every voice and sing" for me, AP:
"I didn't touch her," Haynesworth responded, according to the document, adding that he doesn't "even like black girls."

When police detectives later tried to interview Haynesworth, he spontaneously told them, according to court papers: "I know what this is about, she is just upset I have a white girlfriend. I couldn't tell you the last time I dated a black girl. She was trying to get with me."
The 2010 U.S. census reported back that the U.S. now has more then 4.5 million interracial marriages, a remarkable statistic indicating how far the nation has come from the era of Jim Crow and Segregation.
I think I speak for everyone here when I say that Big Al should be free to go out with whomever he wants. Is Big Al willing to go to jail for his beliefs? I think we both know the answer to that one.