Newman Is Very Disappointed In Dana Stubblefield Today
Friday, December 10th, 2010 at 9:05 am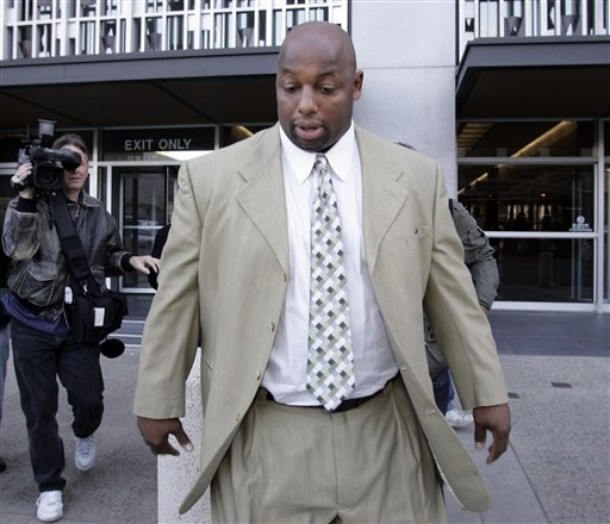 How many of you laughed when you heard that Dana Stubblefield took steroids during his NFL career? It was probably funnier to Redskins fans who were forced to watch him take suck to epic levels like every other big-money Synder signing. Could you blame him for lying about taking steroids? Who would have believed it? Next thing, Gilbert Brown would have claimed he was bulimic.
Stubblefield can't quit failing and getting in trouble for it. He was sentenced to 90 days in jail for stealing his ex-girlfriend's mail. Did we mention he's already on probation after being nailed for lying to federal investigators during the BALCO scandal?
Stubblefield didn't just roll up to her mailbox and take her mail as one would think. He filled out a change of address form so her mail would get delivered to him. Smooth. Her mail included unemployment checks but he was probably after those Valu-Pak direct mailers. He was hoping to get those "Buy One, Get Three Free" coupons from Domino's. Expect Bruce Allen to sign him after his release. Someone needs to take Albert Haynesworth's place.
UPDATE: Did you know that Stubblefield played a prisoner in the Ben Affleck tour de shart Reindeer Games? H/T to Joe Eskenazi of SF Weekly for digging this up.
Stubblefield, fittingly, played a prisoner in the 2000 stinker Reindeer Games alongside Ben Affleck. During the making of that film, the former NFL great inadvertently knocked Affleck unconscious, hospitalizing him.
That's why he got probation and 90 days as opposed to 20 years.
Tagged with: BALCO • Crime • Dana Stubblefield • NFL • San Francisco 49ers • Seinfeld • Washington Redskins
Filed under: Uncategorized
Like this post? Subscribe to my RSS feed and get loads more!