Wednesday, January 26th, 2011 at 8:00 am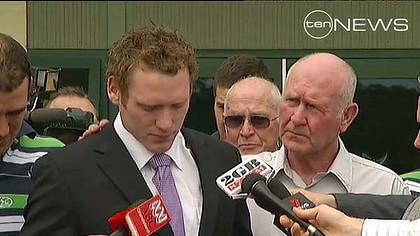 Where my dogs at? Not in Warrington if they can help it. Joel Monaghan just moved to town and he's looking for some service.
You might remember Monaghan from such episodes as getting his dick sucked by a dog and filming it. He quit playing for his Canberra team and hid for two months while avoiding the internet and newspapers.
The canine lothario eventually fled to England where he joined rugby league Warrington Wolves. However don't think his new team isn't giving him a hard time.
It was a slightly surreal interview today as in the background Lee Briers, who remains in denial of his role as one of Warrington's elder statesmen, was barking at regular intervals, and later wondered aloud why the club's media officers had not played Who Let the Dogs Out before Monaghan's press conference.
Monaghan has another thing coming if he thinks that it's going to be any easier for him. He scored a try in his first game this past weekend. No idea how he did with the local dogs afterwards. However if he wants to score with the dogs, we hear Newcastle is the place to go. Hope his pick up lines are better than DMX's.
If you know or have audio of any Leigh songs referring to Monaghan, pass them along.