A Complete Idiot's Guide to Round 1 of the 2012 NCAA Tournament
Thursday, March 15th, 2012 at 7:21 am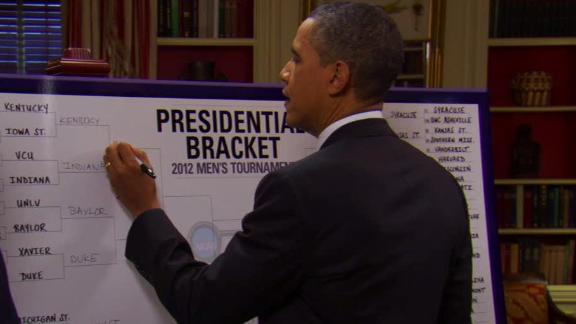 It seems like every year the NCAA Tournament becomes a larger part of our popular culture. This year, it is a given that instead of working on Friday, everyone is calling in sick and heading to a bar (well, except for yours truly). The only problem with the mass consumption of the coolest four days in sports is that when "society" makes a big deal about it, is that well… everyone makes a big deal about it. For a long time, Days 1-4 of the tournament were a sports lover's secret: we called out of work, hid our brackets, and used a stupid thing called a "Boss Button." Now, it's only a matter of time until CBS puts Justin Bieber on the selection show. Until then, let's make the most of what we have left, shall we?
Much like last year, I haven't spent a lot of time watching college basketball this season. I blame Randy Edsall. Yeah, I know he's a football coach. In any case, if the geek from "Social Network" gets to put his lame bracket on the Internet, I feel like I should be able to post mine. If it's not clear from my reasoning below, I know next to nothing. Let's get to it:
1 Kentucky v. 16 Western Kentucky: I was always a big fan of Chris Marcus; he was an animal at WKU when I was in college. I wonder whatever happened to him? Oh. If Wikipedia is correct, that makes me sad — get well soon, buddy.  Ok, well if it weren't for some careful tweezering, I'd have a unibrow resembling the one residing on Anthony Davis' brow. Hot knows hot, bro. UK
8 Iowa State v. 9 Connecticut: Iowa State has screwed me before. While this year's UConn team is a shell of last year's, the Huskies hae a seasoned cheater coach, great guards, and a monster presence in the middle. UConn
5 Wichita State v. 12 Virginia Commonwealth: Shaka Smart, team on a hot streak, and a 12-5 match-up? VCU.
4 Indiana v. 13 New Mexico State: I don't know what's more shocking: Indiana is a four seed or New Mexico State is in the tournament at all. New Mexico once hired a guy who dressed like this: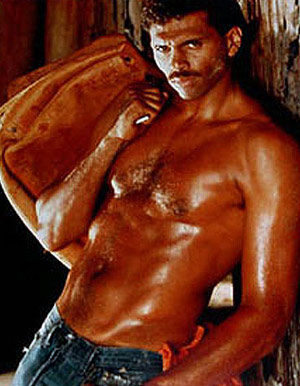 Indiana
6 UNLV v. 11 Colorado: I liked both of these schools when I was growing up: UNLV in basketball and Colorado in football. My knowledge of both school's teams ceased in about 1998, so I got nothing. Except I heard somewhere the Pac-37 sucked this year and UNLV had a bunch of badass players 20 years ago. UNLV
3 Baylor v. 14 South Dakota State: I have a lot of weird feelings about Baylor. First, let's not forget less than ten years ago, a player on the basketball team murdered a teammate.  Then, the Redskins went out and did this. Allow me to rant for one moment: as executives running a professional football team, do you not understand basic economics? That four does not equal one? That unless RG3 plays as well as Cam Newton did this past year, this trade is most likely a bust? Ok, just checking. Screw you Dan Snyder and RG3. I hate the Redskins. South Dakota State
7 Notre Dame v. 10 Xavier: As I mentioned last year, I have issues with both of these teams. And this is a lot closer than one would think because the Golden Domers have been absolutely horrific in football and terrible chokers in basketball. Nonetheless, I flashback to my private elementary school days and being the only non-Irish schmuck in the joint and hating every minute of it. Xavier
2 Duke v. 15 Lehigh: This seems like a cute match-up. The score will not be. Duke
WEST
1 Michigan State v. LIU Brooklyn: While they haven't won a title in over 10 years, MSU is always hanging around until the final weekend. While searching for the LIU Brooklyn nickname (it's "Blackbirds") I was  unfortunate enough to hear Doug Gottlieb weasel his way into a pseudo-upset pick of LIU Brooklyn over MSU. Call me crazy, but I have a problem with "authoritative" analysts who were once charged with felony theft. Doug Gottlieb sucks. MSU
8 Memphis v. 9 Saint Louis: Snooze.  Saint Louis hasn't been good for years and cursed Wizards fans with Larry Hughes. Memphis also cheats. Memphis
5 New Mexico v. 12 Long Beach State: So, apparently, my earlier Reggie Theus point was incorrect as it belongs down here. I still stand by my Indiana pick and will also go with the LBC. Cool logo, good baseball team, mucho rap shout outs. Longggggggggg Beach
4 Louisville v. 13 Davidson: I actually watched a little bit of Louisville in the Big East tournament. Totally overrated, but I don't think Davidson still has any Curry's on their team, so they're probably safe. Louisville
6 Murray State v. 11 Colorado State: Didn't Murray State win like 25 games in a row or something? Murray State
3 Marquette v. 14 Brigham Young: What happened to Davies was bull crap. Also, Al McGuire: bad ass. Marquette
7 Florida v. 10 UVA: It pains me to pick an ACC rival, but it's hard to root against a team coached by a guy named "Tony Bennett" that also plays tough defense. Also, so sick of Florida. UVA
2 Missouri v. 15 Norfolk State: It seems like Missou has some bad karma coming its way. Sorry, but I don't think Norfolk State is the school to deliver it. Missouri
EAST
1 Syracuse v. 16 UNC-Asheville: Which Syracuse 'Melo is more hated as of today: Fab or Carmelo? While Carmelo does have the dumber name, he at least won a title. Syracuse
8 Kansas State v. 9 Southern Miss: What 18 year-old kid would want to play for a nut like this: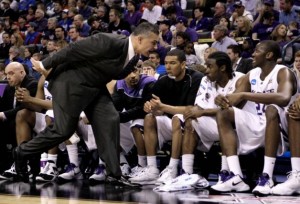 Fact: Frank Martin will one day be murdered by one of his players. Southern Miss
5 Vanderbilt v. 12 Harvard: Graduates from Ivy League schools tend to be privileged rich kids who were connected. I am none of those things. Vanderbilt also bent me over in last year's pool. Ughhhh… I hate both of these teams, but dammit, I love me some Buster Olney. Vanderbilt
4 Wisconsin v. 13 Montana: After years of shunning Bo Ryan teams, I hopped on the Badger Train last year. I rode them a little too far and got my heart broken. But this year, I'll be careful. Won't get myself hurt. Aw hell, that's what I always say… Wisconsin
6 Cincinnati v. 11 Texas: It is difficult for me to get over years of Bearcat teams flailing in the tournament, but I actually saw them beat Georgetown last week. I came away impressed. Or maybe Georgetown sucks. Too late now. Cincy
3 Florida State v. 14 St. Bonaventure: Florida State is so overrated it hurts. Yeah, they beat Duke and UNC back-to-back (barely) but they can't shoot. So, who do they play? The "Bonnies?" No, sorry. Can't do it. FSU
7 Gonzaga v. 10 West Virginia: This game is in Pittsburgh, which will be a home game for WVU. It's also far away from home from Spokane. Also: Greasy Bob Huggins. Sweet. WVU
2 Ohio State v. 15 Loyola-MD: I love me some Jimmy Patsos, but the only chance the Greyhounds have in this game is if they change the rules to lacrosse. OSU
MIDWEST
1 UNC v. 16 Vermont: I like these match-ups because they require no thought. I will be sad, however, when one of these hits and some degenerate gambler from God-knows-where hits a $50,000 bet. I'm already annoyed by the Darren Rovell tweet explaining it. UNC
8 Creighton v. 9 Alabama: The season premier of "South Park" was last night. One of my favorite scenes from the show is "Alabama Man." That is all. Alabama
5 Temple v. 12 TBD: The result of the play-in game ended too late to be included in this edition. Thus, Temple
4 Michigan v. 13 Ohio: I caught a Michigan game earlier this year and it was all weird: the uniforms were like neon yellow, they were wearing Adidas, and there was some dude named "Carlton" on the team. Pass. Ohio
6 San Diego State v. 11 N.C. State: I gave SDSU a lot of love last year and they screwed me. Also, a good friend had some trouble with a girl who was "associating" with a guy who graduated from SDSU. I got no love for you, Aztecs. Although your shoe game is on point. N.C. State
 3 Georgetown v. 14 Belmont: I'm inclined to lean against the Hoyas in the first place, but watching them bend over backward to give a game away to Cincy sealed the deal. JT3, you may be the DMV's longest-tenured coach, but you got a long way to go before you coach like your Dad. Belmont
7 St. Mary's v. 10 Purdue: Yikes, this one is a stretch. Purdue makes me think chicken, but St. Mary's makes me thing really small private high school. Also, the Big Dog. Purdue
2 Kansas v. 15 Detroit: Not even Eminem can save you this time, Detroit. Kansas
Tagged with: NCAA Tournament
Filed under: Uncategorized
Like this post? Subscribe to my RSS feed and get loads more!