In Japan, Baseball News Travels Incredibly Slowly
Wednesday, February 29th, 2012 at 7:33 am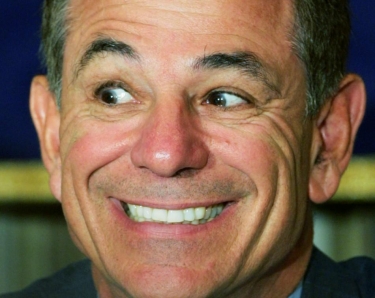 The Red Sox-Yankees rivalry is sooo 2004. The teams haven't faced each other in the playoffs since that fateful ALCS with each winning a World Series since then. The main protagonists in the rivalry are all gone: Curt Schilling, Jason Varitek, Alex Rodriguez, Pedro Martinez, and Jorge Posada are now retired or overpaid non-factors (Hi, Alex!). Theo Epstein, Tito Francona, and Joe Torre have all moved on. The last few seasons have cemented the Texas Rangers and Tampa Bay Rays as highly-successful franchises who can knock-off either team. Yet, this is news to Bobby Valentine. Evidently, they don't air "Baseball Tonight" in Japan:
New Boston Red Sox manager Bobby Valentine got the 2012 rivalry with the Yankees going early Tuesday.

He took a little shot at captain Derek Jeter and then took a poke at another Yankee when asked to assess Jason Varitek, the catcher who will retire Thursday.

"From afar, he was everything you want a guy who wears a 'C' to be," Valentine said of the longtime Red Sox captain. "He was a man's man, he was a big hitter when needed, he was the leader of the pitching staff. [Pause] He was able to beat up Alex, all that stuff. He was exactly what he was supposed to be."
Stoking a rivalry by referring to two over-the-hill players that engaged in a terribly overrated "fight" eight years ago… Any other wild times you want to recall in order to stir Stolmy Pimentel's competitive juices?
"We'll never practice that [Jeter's "flip" play against the Oakland A's in the 2001 Division Series]," Valentine said. "I think [Jeter] was out of position and the ball gets [Jeremy Giambi] out if [Jeter] doesn't touch it, personally."
Ahh, good to know, because no one really cares. It happened 11 years ago. Well except maybe for Joe Morgan. He'll probably use this as a block quote for his upcoming conspiracy theory novel, "Debunking 'Moneyball:' How Brad Pitt and Billy Beane Defrauded Baseball." Anything else, guy who probably just saw "Anchorman?"
"That was amazing that [Jeter] was there. I bet it's more amazing that he said he practiced it. I don't believe it."
Valentine waited a long time for the chance to redeem his MLB managerial career, so I can understand if he wants to do things his way. Yet, for a team that has flat-out embarrassed itself on a daily basis since last fall, Valentine might want to consider whether he can rescue the psyche of this damaged clubhouse (i.e., win a series against the Orioles) before he starts pontificating. In other words, why are you still talking about this? You managed the Mets. Go away.
Tagged with: Bobby Valentine • Japan • MLB • Red Sox • Stolmy Pimentel • Yankees
Filed under: Uncategorized
Like this post? Subscribe to my RSS feed and get loads more!