Penny for your thoughts, Mike Florio
Wednesday, October 5th, 2011 at 12:38 am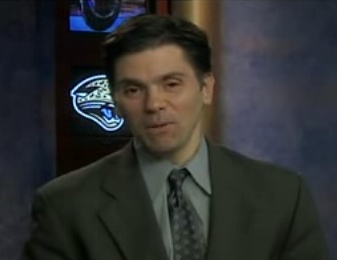 Profootballtalk is a simple but effective concept; a professional football news clearinghouse. It's a simple web design (hey, like us!) and it was simply an easy way to read about the NFL, and perhaps the UFL, without having to scour the periodicals (shows image of newspapers on printing press in black in white).
So, then PFT founder Mike Florio slowly started to introduce commentary into the news; which was benign enough, since practically everybody does it on the internet. But then Florio started introducing stories that we're really just speculation.
One thing is abundantly clear; Florio desperately wants to be relevant in professional football; thus he takes every opportunity to inject speculation into his news. Like last week, before the Cleveland Browns took on the Miami Dolphins and Florio posted this story:
Though many will point to the Madden curse as a reason for Hillis missing a game due to a case of strep throat, we're more inclined to wonder whether Hillis' unwillingness to play was influenced in any way by the lack of a new contract. Hillis continues to earn the fourth-year minimum of $600,000. If the team had made a long-term commitment with a big-money bonus, would Hillis have been more willing to give it a try?
A week later, Florio, after taking flak for his assertion, posted this story from ESPN Energizer Bunny Insider Adam Schefter:
Adam Schefter of ESPN reports that there are whispers in the locker room that Hillis' decision not to play was indeed influenced by a contract that currently pays him $600,000 for 2011.

Of course, it may just be that the teammates don't understand why a guy chose not to play due to a condition that many believe is fairly innocuous — even though it isn't. But as Tony Romo said after returning to a game with a broken rib and a punctured lung, football players play football. And so it makes sense for other football players to wonder why a football player isn't playing football.
That entire second paragraph, the longer one, is all speculation, not news. Oh, I'm sorry, it's called "analysis" in the biz (adjusts scarf). Florio posted his speculation on his popular website, waited a week, then revisited his invented controversy to reinforce his previous assertion. Football players are up on the internet; and ESPN, so it wouldn't be much of a surprise for them to read the story and shift their opinion.
Except Schefter used "anonymous sources," which, unbelievably, is a step up from Florio staring at his computer, scratching his ass, and going "I wonder if Hillis is faking it to get the Browns to resign him?"
Then the Cleveland Plain Dealer released quotes from Browns coach Pat Shurmur, as well as players Tony Pashos and Greg Little who defend Hillis, which is expected and is worth noting since the "anonymous sources" aren't even quoted by Schefter. Former Browns Coach Eric Mangini also rejected the notion that Hillis would sit out due to his contract; explaining that Hillis played the end of last season with a number of injuries, and without a large contract.
Finally, we learned this week that Browns Center Alex Mack (perhaps of the "Secret World" variety, Nickelodeon, anyone?) had an appendectomy after the Browns lost to the Titans, when he probably should have had his eyes removed after seeing that shit. Of course, Florio, just couldn't help but take a few subtle digs at Hillis:
Mack's handling of his business in this manner surely will reinforce the belief (as reported by Adam Schefter of ESPN on Sunday) held by some in the locker room that Hillis' failure to play was influenced by his contract situation.
Hillis sat out because he's a pussy, but his teammate had appendicitis and toughed it out! Why, Florio was right all along!?
So now instead of having a pro football clearinghouse site for us to go to so we don't have to check google alerts on all the teams; or read the crap churned out by the "Worldwide Leader in Sports," we have to suffer through Florio's "analysis."
It's terrific that Florio has been able to earn a living essentially being a jerk to people; I aspire to the same thing myself. But creating stories out of overreaching interpretations is a good reason why many folks love to hate this guy.
Filed under: Uncategorized
Like this post? Subscribe to my RSS feed and get loads more!