LeBron Invokes The Name Of Favre
Tuesday, December 7th, 2010 at 8:08 am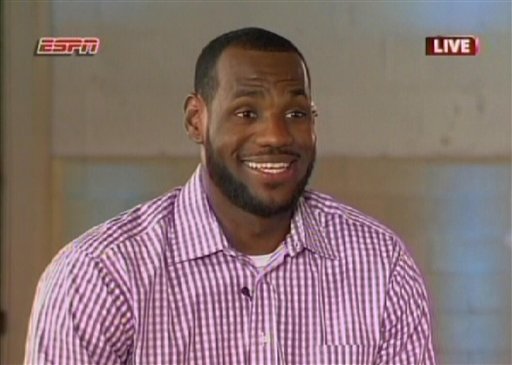 Last night the Heat beat the Bucks in Milwaukee by 10, 88-78.  Before the game, LeBron James was asked if he can relate to Brett Favre because he too is hated by the team, city and/or state where he once played. LeBron's answer was…typical LeBron.
"Brett (had) great years here in Green Bay, and any time a great competitor like that leaves, no one wants to see that, but they've done a great job of regrouping with Aaron Rodgers and I believe that Cleveland will do the same," James said.
Thats our Bron Bron!  He was asked if he could relate and he said "any time a great competitor like that leaves, no one wants to see that".  Sure no town wants to see their best player leave town, but c'mon the two situations and how they both went down were a little different.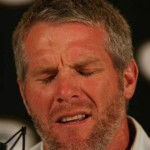 Brett Favre, for all the crap he gets for what he's done lately, did actually win a championship in Green Bay, a city as far from his hometown as can be. Also, Favre left town after being there for the vast majority of his career, winning said championship, waffling on retirement then essentially getting pushed out the door because the GM wanted to play his young backup quarterback who was going to split town if he didn't get the chance to start over the old man that he was (and is) CLEARLY better than at this point in both their careers.
LeBron, on the other hand, left his hometown (or real close to it at least) in the prime of his career, without winning a single championship, to go play with his friends.  Meanwhile, his former team was left with a shell of a non-competitive roster in place and is facing the lottery for the conceivable future since their entire team is made up of players meant to compliment a player whom is no longer there…LeBron.
Sure, Cleveland will get over it just as fast as Green Bay!  Its totally the same situation! You are basically the black Brett Favre!
Well, come to think of it, while the situations for their departures from their former teams were different, the players themselves are kinda similar.  Both of them have to be in the top ten list of most selfish players in their respective sports, both of them whine a ton on their playing fields, and both of them are probably some of the most narcissistic and non-self aware people on the planet.
He might just be Black Brett Favre.  When do the Wrangler commercials start airing?
Tagged with: Brett Favre • Cleveland Cavaliers • green bay packers • Lebron James • Miami Heat • Minnesota Vikings • NBA • NFL
Filed under: Uncategorized
Like this post? Subscribe to my RSS feed and get loads more!