Your UFC 120 Recap: "I Am A Real American"
Monday, October 18th, 2010 at 4:09 pm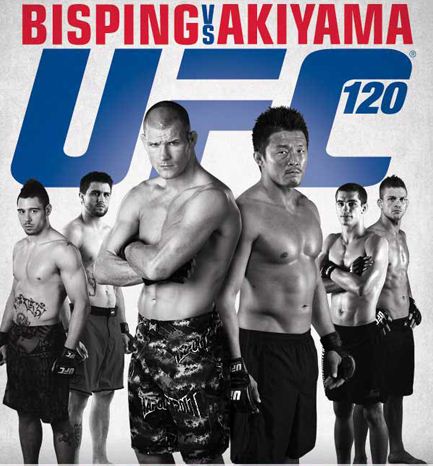 Let's face it: Mixed Martial Arts (MMA) is no longer a niche sport.  Head to any sports bar on a fight night and you'll see hordes of men and women crowded around televisions watching tatted-up behemoths grapple with each other.  The combat is brutal, just like UFC founder Dana White.  Through a series of shrewd business moves and a ruthless marketing campaign, he's methodically crushing the remnants of boxing. 
Fresh out of rehab, we asked guest writer and MMA die-hard Turd Ferguson to give us his expert summation of Saturday's "UFC 120."  His recap is after the bump: 
Before I do the recap I wanted to address the readers and keep it real for a second.  There comes a time when you have to admit your mistakes and own up to your responsibilities.  Yes, I've missed a few of your birthdays, may have accidentally struck your mother with my car after she made light of my anatomy, and then drunkenly climbed into bed with one of your sister's friends at a sleepover.  That still doesn't mean that I can't take you out, buy you fireworks, learn where your "new daddy" gets his dry cleaning done, buy you and your friends beer, and then get you a couple lap dances to make up for my neglect. 
Which brings us to tonight's recap.  Anytime UFC airs a free event on Spike I am all over it like the buffet at Ponderosa, or the fragrance counter girls at the Designer Imposters stand at the Pentagon City Mall (the ones who don't return my emails, faxes, letters, phone calls, or twisted, overt, sexual invitations posed in the parking lot after their shifts). 
Let's get to the action before my Dinty Moore beef stew gets cold(er):
This event took place in the tropical paradise of London, where, if Guy Ritchie films have taught me anything (other then that Guy Ritchie couldn't direct traffic), the city is home to many incomprehensible, green-toothed British gangsters and sultry, devious pop singers.    
Michael Bisping vs. Yoshihiro Akiyama
To kick-oof my evening, I got up and played "I am a Real American" while funneling whiskey. 

Finally realizing this match involved two non-Americans fighting in London, I turned off the song, sat back on the coach, and thumbed through the "escorts" section of the Yellow Pages (I steal the internet from my neighbors…or I did). 
Akiyama is a warrior and almost pulled off the submission via triangle choke against Chris Leben in July, so I knew for this fight he was going to go harder then the Wu-Tang Clan.  Bisping, on the other hand, former winner of the "Ultimate Fighter," boasted an impressive record (20-3) going into the bout and talks more trash then T.O. in a driveway interview.    
This was mostly a standing bout, with Akiyama rocking Bisping in the first with a heavy left; a common theme for the fight.  Bisping would then unload with combinations that finally began to land in the second and third rounds, while Akiyama would occasionally catch his opponent with a hard fist.  Bisping also sought out single legs several times, only to abandon them quickly.  Akiyama worked the inside knee of Bisping with leg kicks, but he abandoned that late in the fight when he just starting going for the knockout.    
In the end, like a Hawaiian Tropic bikini contest, it went to the judges and Bisping got his hand raised.  Getting the decision is like the fighting equivalent of a handy: sure there's still a payoff, but it's much sweeter when you roll off and then start thinking up excuses to leave in the next five minutes.  
Dan Hardy vs. Carlos Condit
Condit came into this fight a heavy underdog even though he wore the strap for the WEC at one point.  Condit molly-whopped Hardy in the first round with a vicious hook that Hardy simultaneously returned in-kind.  Somewhere Carl Weathers and Sylvester Stallone are pissed that these two just ripped off Rocky II.  Or, maybe they're respectively filming Bud Light commercials and rambling nonsensically on Twitter.  I don't know.  Regardless, Hardy went down quicker than Tera Patrick on camera and the fight was finished faster than me watching her do it. 
Usually after you witness a beating like that you at least have to file a police report.  Hardy didn't come out of this bout a complete loser, though: Mott's Applesauce is zeroing in on him to introduce fight fans to their products.  And once again, America triumphs over the British, crank the song back up (why yes, I do watch Eastbound and Down)! 
Paul Sass vs. Mark Holst
Sass strikes early with a beautiful triangle choke to win late in the first round.  Sass loves that move and so do I.  Also, note to Sass, who doesn't harbor any affection for the moniker "Sassangle:" most of us don't get to choose our nicknames and you're not always going to like them (throws a copy of high school yearbook out the window of car, opens carton of Ben & Jerry's).   
Spencer Fisher vs. Kurt Warburton   
Fisher picked up the win by decision as he almost caught Warburton several times with a rear naked choke.  Decisions are tough to make/watch.  Maybe if I was better at making decisions early I wouldn't have to take you out every once in awhile and pretend we're a happy family…
James McSweeney vs. Fabio Maldonado
Ultimate Fighter alum James McSweeney must have pics of Dana White's junk on standby because I can't understand why he is still getting chances after being so disappointing since joining the UFC ranks.  McSweeney has dismissed critics' suggestions that his bulked-up size prior to the fight would hurt his endurance.  Well, he was wrong: by the end of the first round, McSweeney had his lungs hanging by his feet.  Maldonado got the referee to stop the fight early in the third round due to strikes for the TKO. 
Side note: Keith Jardine is in the unemployment line and McSweeney is carrying the flag?  This country is going to hell…   
Anyways, pretty solid night and a nice precursor for this weekend's main event, which I will be covering… unless your stupid mother makes me spend time with you again.
As we finally pull up into the drop-off in front of the hospital emergency room and rehearse our story for the paramedics one last time, in the back of our minds, we both know what is coming next.  I've gotta boot you out of the car and get back to the Motel 6 to check out before the bill comes due.  Not because I want to, but, because that's just the way it is sometimes.  See you when you're eighteen!
Tagged with: Dana White • Guest Post • Michael Bisping • Turd Ferguson • UFC 120 • Yoshihiro Akiyama
Filed under: Uncategorized
Like this post? Subscribe to my RSS feed and get loads more!