Reading Between the Headlines
Friday, March 26th, 2010 at 11:45 am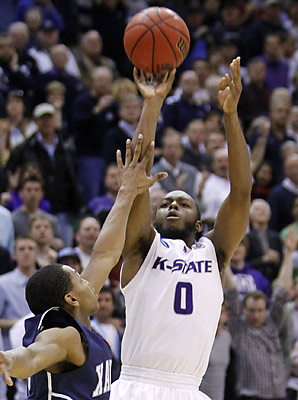 Late last year, I had a burgeoning
five-hour energy
problem.  I finally kicked it in early January, but now,
thanks to Kansas State and Xavier
, it's coming back.  What a great game.  So now I'm debating a
re-up
– White Lightning, where you at?  Thankfully, there won't be any more late-night weeknight games.  On to the headlines:
Before K-State survived, Syracuse was knocked out by Butler. 
Yeah, 75% of the country's brackets were done last weekend, so we don't care.  What I really care about is the deification of Gus Johnson.  What happened to this guy?  He's not that good anymore.  A few years ago, he was solid.  Now, he's just another screamer.  I found him almost unbearable last night. 
Meanwhile, Billy Raferty explained the origin of "onions."
I, on the other hand, will never get tired of Billy Raferty.
Joe Mauer signed an 8-year $184M extension with the Minnesota Twins.
Couldn't be happier for Twins fans; Mauer is a great player (even though his guaranteed $184M is roughly $32M more than what the team contributed to the funding of their new ballpark.  Thanks, Hennepin County!).  I just find it interesting that people are back-slapping the Twins for stepping up to the plate and taking such a big risk.  The recently- deceased owner was reportedly worth $3.6B.  Yeah, that's a "B" for BILLION.  Excuse me if I'm not as obsequious.
Vicente Padilla will be the Opening Day starter for the Dodgers.
Apparently, Dean Wormer was wrong.  Fat, drunk and Plaxico is a great way to go through life.
Gilbert Arenas will be sentenced today.  
I wouldn't be surprised if Flip Saunders hopes for the chair.
Tim Tebow was cursed at when he suggested a prayer before the Wonderlic test.
Tebow is denying the story and if I were him, I'd deny it too.  The dude scored a 22 out of 50.  Just to give that score some context, 24 is the average for NFL QBs.  Even this guy beat him.  Clearly, Jesus was busy that day.   
Phil Hughes will start the season as the Yankees' 5th starter.
Color me shocked.  If you followed the Yankees in spring training even somewhat closely, it was pretty easy to see this wasn't really a competition.  And since most teams don't need a 5th starter until May, once again, I must ask: who cares? 
Tiger Woods will hold a press conference the Monday before the Masters.
Wrestlemania XXVI is this weekend.
Now, there are two unrelated places that could both use Gus Johnson.
This week was kind of a downer, yes, I know.  Treat yourself to Keith Law's Top 200 Rock Songs of the 1990's.  In addition to his encyclopedic knowledge of music, I'm fairly certain he's one of the few people in the world who could make the Kansas City Royals a playoff team.  That's a rare combination of talent.   Have a great weekend, enjoy the games.
Tagged with: Gilbert Arenas • Gus Johnson • Joe Mauer • Minnesota Twins • New York Yankees • Onions • Phil Hughes • The Wire • Tiger Woods • Tim Tebow • Vicente Padilla • Washington Wizards
Filed under: Uncategorized
Like this post? Subscribe to my RSS feed and get loads more!