Tuesday, May 17th, 2011 at 8:02 pm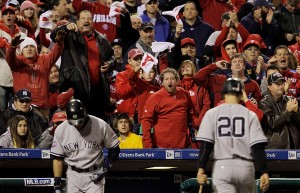 When I was like 4 or 5 I wanted the Ecto-cooler Hi-C juice box pack more then anything in the world. Slimer is awesome! So, when my mother declined to buy them one time at Heinen's I started to throw a tantrum. She smacked me across the face. In the grocery line. While I was crying. She later told me I stopped crying immediately and I don't remember ever throwing another tantrum again.
On a completely unrelated note Jorge Posada got mad because Joe Girardi decided that aging, shitty players should not be batting in the front of the order.
Buy me some Cocoa puffs with the Ecto-cooler, ESPN:
Jorge Posada was so angry at being dropped to ninth in the order Saturday that he not only said he wanted out of the lineup, he also said he wanted off the Yankees.

Sources told ESPN The Magazine's Buster Olney on Monday that the 39-year-old lashed out about the lineup move and being relegated to full-time designated hitter. The New York Daily News first reported the story.
What!? How dare you hold me accountable for my declining production!?
Jorge Posada ran home, tore up every picture of him and Joe Girardi, made a mixtape of their favorite songs, did drive bys to his house in West Chester, and calling his home phone and breathing heavy.
But Posada, who is batting .165 and has yet to get a hit against a left-hander this season, later apologized for pulling himself from the lineup.

"It's just one of those days that you wish you could have back," Posada said Sunday.
God, what is it with these Yankees? Jeter needs $51 million to feel good about himself, Rodriguez needs to be portrayed as a centaur? This team has so much self-entitlement it's as if the chicks from Mean Girls picked up a bat and gloves and started playing soft toss.