T.O. worked out in front of television cameras today for your amusement
Wednesday, October 26th, 2011 at 12:24 am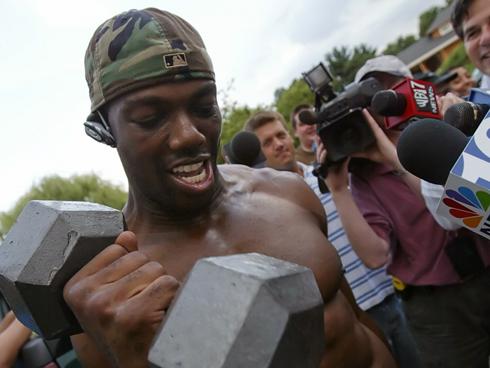 Father Time All-world wideout Terrell Owens took a break from his busy VH1 filming schedule to run routes and do drills in shorts for the cameras of the NFL Network yesterday. This would be more impressive but for the fact that absolutely anyone can do this themselves in their spare time, too.
Pass me a Gatorade, ESPN:
The free-agent receiver is unsigned after tearing his anterior cruciate ligament and having surgery in early April. He participated in some drills and caught passes Tuesday in the workout that was televised on ESPN and the NFL Network. He did not run the 40-yard dash.
Well, why would anyone want to see a soon-to-be 38-year-old receiver run anyway? He looks terrific with his shirt off; and that right there is why Vernon Gholston is living in a gated community. To be fair, Owens had 72 receptions and 983 receiving yards last season with the Cincinnati Bengals before having off season knee surgery; which rarely depletes the speed of aging athletes.
Owens said he wasn't deterred by the fact that no scouts were in attendance and said his workout "speaks for itself."

"I only need one team," Owens told the NFL Network. "I only need one chance."

Owens said he felt good after the workout and that overall, "I probably feel better than I did before when I got hurt."
Phew! For a second there I thought he was going to tell us how difficult it has been for him to rehabilitate his gimpy knee. Well, since Hue Jackson is in a giving mood, and channeling the ghost of Al Davis; why not sign TO?
Tagged with: New York Jets • NFL • Terrell Owens • Vernon Gholston
Filed under: Uncategorized
Like this post? Subscribe to my RSS feed and get loads more!