The University Of Houston Feels Like Chicken Knowles Tonight
Monday, March 5th, 2012 at 8:00 am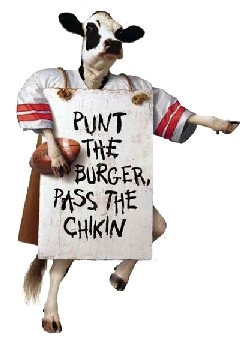 Welcome to March or as it's known to some, Women's History Month. If Black History Month was anything to go by, people better hide their important female icons until April. February was not the best month for black people. Shout out to Don Cornelius. It's not all doom and gloom. The first of the month brings a new entry into the 2012 Best Name in Sports Contest. Enter Chicken Knowles.
Knowles is a forward from Houston who recently committed to the University of Houston for next season. He's currently ranked #47 overall and #14 at his position by Rivals.com. We can't predict how he'll turn out in college but this is a prime opportunity for a national chicken chain to use him for marketing purposes.
Chick fil-A already has a leg up in the college athlete endorsement battle thanks to Casanova McKinzy who cited their presence near campus as a reason why he picked Auburn over Clemson.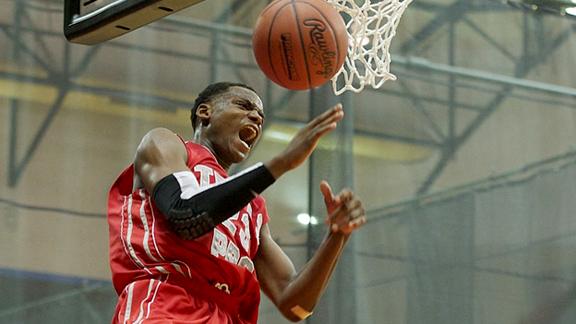 Popeye's and KFC need to step their game up. You'd think the place that got Beyonce to carry their free chicken for life VIP card would be all over Chicken. No chain will be able to pay or provide free chicken for life in the open. He might get a slap on the wrist for cash payments but free chicken will result in him losing his college eligibilty and get Houston the death penalty. Free Ohio State. They should be able to figure out a way to hook him up for dropping their name in every interview like a NASCAR driver.
"I'd love to stay and talk but I really need to go eat some delicious Popeye's. It helps me maintain my sexy."
"Well, I just tell people that I keep a sensible diet which consists of three servings of Chick fil-A every meal. I was having problems down in the post until I added an additional Spicy Chicken Sandwich to lunch and dinner."
"I know I just got here and want to play right now. Guess you could call me a private. I'm just gonna practice hard, take my minutes when I get 'em and eat KFC until I become a colonel. A floor colonel."
Speaking of the first of tha month,
Tagged with: Beyonce • Bone Thugs N Harmony • Chick fil-A • KFC • NCAA • Popeye's • University of Houston
Filed under: College Basketball • Uncategorized
Like this post? Subscribe to my RSS feed and get loads more!