So It's Come to This: The D-Train Signs with Balti-less
Wednesday, March 21st, 2012 at 7:04 am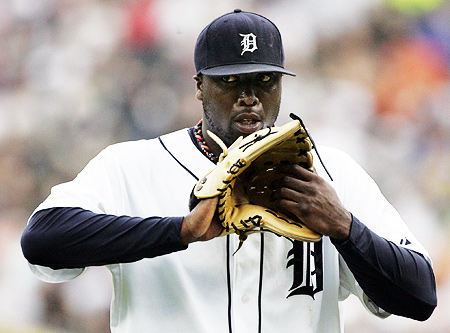 To paraphrase the illustrious Tony Kornheiser, sometimes you stare at a blank computer screen, hoping for inspiration to write something, and lo and behold, God provides:

Just when you thought it was safe to put the final nail in the D-Train's career, a tightly-run organization like the Baltimore Orioles comes around to offer one last glimmering hope.
In other words: there's no way this will end happily. Baltimore has long served as the "last call" for celebrated MLB vets looking to rekindle one last moment of big league glory on a sub-.500 team: Joe Carter, Doug Drabek, David Segui, Marty Cordova, Vlad Guerrero, Derrek Lee, Pat Hentgen, Sammy Sosa, Scott Williamson, Steve Trachsel, Jaime Walker, Kevin Millwood, as well as second Oriole acts for Miguel Tejada and Rafael Palmeiro (just to name a few).
For Baltimore, despite their track record, it can't hurt to take a flier on a guy who is only 30 years old with a 4.17 career ERA. Especially when your team needs just about a complete re-build.
For Dontrelle, it's a sad epilogue to a once-promising career. Willis was the rare fan favorite who appealed to casual baseball fans as well as its most hardened analysts. Thus, it's hard to see someone who brought so much excitement to the game fall so hard, so fast. Despite this, he's packed a hell of a lot into his 30 years and his nine professional seasons. To wit:
2003 Rookie of the Year
2003 World Series winner
2005 Cy Young runner-up with 22 victories and a sub-3.00 ERA
Two All-Star Game appearances (2003, 2005)
Oh, and about $40M in career earnings (which doesn't include the endorsements).
At the end of the day, Dontrelle will probably spend about two months down in AAA, drawing some big crowds and tricking a few young guys with his delivery. Maybe Baltimore's horrible run of luck with its young starting pitching will continue, enabling him to make a spot start sometime in May or June. I'll make an effort to go see him because it's unlikely he's going to get many more after that (unless he decides to make a comeback with the bat, which he should).
When we are ready to finally bury the D-Train's career, where ever he may land, I hope somewhere A.J. Burnett shows up and does this:
Tagged with: Baltimore Orioles • Candlebox • Dontrelle Willis • Last Chance • MLB • RIP Shane • Ruling • So It's Come to This
Filed under: Uncategorized
Like this post? Subscribe to my RSS feed and get loads more!