Boston Red Sox Drama underscores why I hate baseball
Thursday, October 13th, 2011 at 7:05 am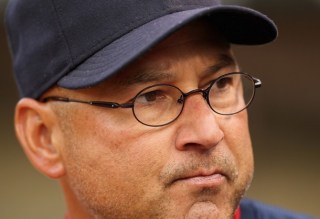 I rarely write about baseball, mostly because it's just not that appealing to me. If the ratings are to be believed then I far from alone. I can pretty much predict all the teams that will be in it every season. Oh, sure, some "smaller market" clubs can break through here and there, like the Detroit Tigers, or the Tampa Bay Rays (or the Milwaukee Brewers), but we all know that the Yankees, Red Sox, Phillies, and Braves are almost assured to be in it and that they get the dominant coverage.
It doesn't even matter that there have been five different clubs that have won the World Series the last five years; including a "small market" St. Louis Cardinals team. It was pretty lame for me to watch Indians Pitcher Cliff Lee face off against former Indians pitcher CC Sabathia in Game 1 of the 2009 World Series but that's not the worst for me, either. It sucks that every August, just as the division races heat up, wealthier teams swarm like vultures and just scoop up players from other teams that either a) can't afford to resign them or b) aren't playing for anything. That's bad, but not the worst, either. That's not what I hate the most about baseball. No, the worst in when one of those clubs DOESN'T make it; because then we have to hear about all the time.
Case-in-point; the Red Sox absolutely collapsed down the stretch to piss away the AL East division crown and slip out of the playoffs. No big deal, right? The Cleveland Indians were in first place at the all-star break, and shit the bed as well, it happens. But, this is the Red Sox, why how will WE EVER BE ABLE TO WATCH THE POSTSEASON WITHOUT THEM!? ESPN has been running constant coverage of the Red Sox; interviews with David Ortiz; "analysis" from fake bleeder Curt Schilling; and grainy footage of Terry Francona in dad jeans leaving the Red Sox podium. I have heard more about the "lack of chemistry" and "too much partying" in the Red Sox clubhouse then I have heard about the entire rest of the postseason. Baseball players party ALL THE TIME. It's not like baseball is a grueling sport to play. But because the Red Sox cleaned out their lockers last week we MUST HAVE ANSWERS!
That's wrong; that's part of why baseball is awful.
Do you think the NFL yammers away when the Cowboys miss the postseason AGAIN? No, they move on; because they rightfully recognize that the to sustain interest in the sport you have to look for more compelling stories then just the same stuff with the same teams. In 2007, Alex Rodriguez opted out of his $252 million contract with the New York Yankees just before Game 4 of the World Series. It pissed off a lot of people because it took away interest from the game. Not ESPN; they ran 24/7 coverage and moved the two teams playing in the World Series to the back of the bus. More Yankees stories, YES PLEASE? (claps like a seal)
It illustrates the other thing I hate about baseball. ESPN is a huge part of the problem. They spent years building up the Yankees/Red Sox rivalry to some obnoxious crescendo. It helped that they had willing participants; why, who could forget Pedro Martinez, who grew up in the Dominican, and started his career with the Expos, throwing down former Red Sox bench coach Don Zimmer, who looked curiously like Don Rickles. Or the footage of A-Fraud Alex Rodriguez and Jason Veritek sissy-fighting was played thousands of times. In the process of building up this phony rivalry, they managed to make the game stale. How much breath and footage can be wasted on this? ESPN plans to find out.
Look, I don't give a shit that Theo Epstein is going to go try to fix the Chicago Cubs, another team that doesn't do shit every season but we have to hear about it because Michael Wilbon likes to remind people that he once lived in the midwest more than 30 years ago. GMs move teams all the time. I don't even care that Terry Francona is being made the scapegoat for the collapse of his team; doesn't that happen with EVERY coach that gets the door? I just know that everytime one of the "evil empire" teams misses the postseason ESPN runs about a thousand stories; and an angel gets it's wings. I also know that many more people would rather watch pre-game coverage of an early season NFL game when airing opposed to October baseball.
Tagged with: Alex Rodriguez • Boston Red Sox • Dallas Cowboys • David Ortiz • ESPN • ESPN sucks • MLB • New York Yankees • NFL • Pedro Martinez • Philadelphia Phillies • Terry Francona • Theo Epstein
Filed under: Uncategorized
Like this post? Subscribe to my RSS feed and get loads more!