Tito Ortiz is nobody's stepping stone
Thursday, June 30th, 2011 at 7:30 am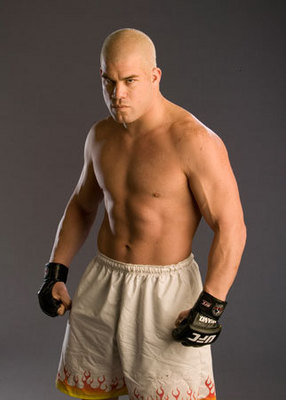 Glorified punching bag Tito Ortiz has been provided a forum at ESPN to lie about defend his record and provide much-needed perspective on his legendary career. ESPN green lights bad decisions all the time, so why would this situation be any different?
Follow us down memory lane, ESPN:
Normally, I leave the FJM style to the experts, but I just couldn't help myself. Let's begin!
It was May 30, 1997 and I'd signed to fight at UFC 13: Ultimate Force against Wes Albritton. I remember looking across the room and going "Wow — that's Randy Couture, isn't it?"
Indeed it is. And he's already retired, so what am I still doing here?
I remember that like it was yesterday, but I've been through so much and done so much since that night where I got my first UFC win …
Little did I know that I wouldn't win again for a very long time.
I'm proud of what I've achieved in the sport and I'm also proud of the part I've played in helping the sport to grow into the monster it is today.
I rode my charisma and 3 heavily-hyped victories over a shell of a former great into 0 wins in 5 years. Where's my statue, Kareem?
As I said in my first column, I'm not going anywhere yet but once I do retire, I'd like to stay in the sport which I've dedicated my life to. I love the sport and the UFC and I think I can continue to make a big contribution to both outside of the Octagon, just like I have been doing for years.
I'd like to teach younger fighters how to also come up short each time they step into the octagon.
I'd like to talk about a couple of the things I read online about me and this UFC 132 fight with Ryan Bader.
Which thing? The thing where you are going to beat worse than Stanley in Friday?
One of the things that has been said is that I've taken this fight "for the money."
Oh, that.
First off, I am a professional fighter.
Honest! Don't let my recent record fool you!
But fighters who really only care about getting paid don't fight in the Octagon like I do.
Oh without a doubt.  If they did, they'd be out of the job!
Whatever I had, hurt, not hurt, whatever, I gave 100 percent.
That's news to Chuck Liddell! I mean you did pull out of fighting him after The Ultimate Fighter.
But Bader made a mistake saying I am a stepping stone back to Jon Jones.
Because it's really a step down since you're not nearly good enough to be considered a contender in the division.
Bader is coming off the first loss of his career.
Talk to me when you've done it four fights in a row!
When I was 28 I felt indestructible too and I was saying a lot of things about what I was going to do too.
You also made those cute t-shirts! It seemed ironic when you kept losing.
No one has ever had an easy fight against me and he made a mistake in saying that I am a stepping stone.
Agreed. With Rampage, Rashad Evans, Shogun, and even Machida you're much further down the food chain.
Maybe it was a figure of speech
That's precisely what it was.
but even if it was it was a little disrespectful to a former world champion.
You're right. Somebody draft an apology to Mauricio "Shogun" Rua.
Tagged with: Dana White • ESPN • FJM style • Tito Ortiz • UFC
Filed under: Uncategorized
Like this post? Subscribe to my RSS feed and get loads more!