It pays to stay in school when you're Terrelle Pryor
Wednesday, June 8th, 2011 at 10:14 pm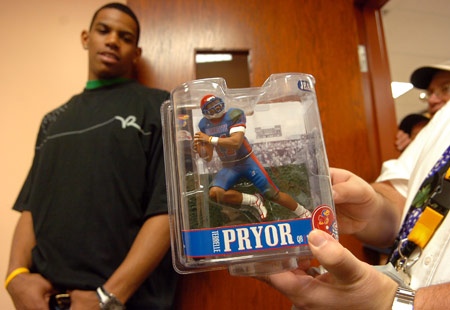 Ex-THE Ohio State University QB Terrelle Pryor has had a rough couple weeks. First, his coach gets sacked (bites down on cigar, arches eyebrows), then he shows up to a team meeting in Nissan 350Z while he is under investigation by both the NCAA and OSU; then his friends start snitching (hasn't 'Melo taught us anything, people?). Pryor's ex-homie and possible future-gun-violence-victim says Pryor got up to $1,000 for signed memorabilia. Now, it looks like Terrelle's NFL payday may go on lay-a-way for a stint in the XFL UFL.
Later Tuesday night, "Outside the Lines" reporters Tom Farrey and Justine Gubar reported that a friend of Pryor's, who requested anonymity, says he witnessed the quarterback autographing memorabilia in 2009-10 a minimum of 35 to 40 times and that Pryor netted anywhere from $20,000 to $40,000 last year for doing so.
Average NFL salary(for rookies): $330,000
Average UFL salary: $50,000
I found some article that said UFL QBs get paid $200,000. But that was before we found out the UFL was stiffing its talent. Long story short, Pryor could have signed a few more mini-footballs and jerseys and covered the difference.
Tagged with: Jim Tressel • NCAA • Ohio State • OSU • Terrelle Pryor • The Ohio State University
Filed under: Uncategorized
Like this post? Subscribe to my RSS feed and get loads more!