The French Were Cheats Way Before The World Cup Qualifiers
Friday, September 3rd, 2010 at 8:00 am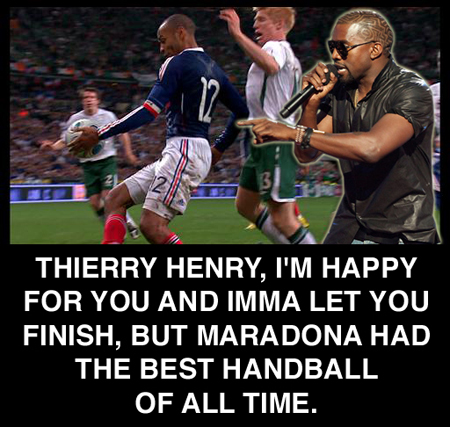 France deserve some credit. If there's a perfect example of multitasking out there, it has to be the French. One has to wonder how they have so much time to pursue racist policies against their own citizens. It seems like cheating is job numéro un. It's almost an art form or obsession. Don't blame Theirry Henry for his handball. He can't help it. It's in the blood. Even French doctors agree.
Dr. Jean-Pierre Paclet, the French team doctor from 2004-2008, suspected that some members of the 1998 World Cup winning team were using performance-enhancing drugs.
"Blood tests revealed anomalies for several Bleus just before the 1998 World Cup," he said.

"You can have strong suspicions when you know the clubs where certain players played.

"It's public knowledge that there were practices which were borderline, to say the least," Dr Paclet said.

Dr Paclet, the France team doctor from 2004 to 2008, continued: "I've invented nothing. Having a high hematocrit level did not prove that they took EPO. As there was no proof we didn't bother them."

He added: "Reasons of State carried the day. It was stronger than everything else. In addition that year (economic) growth was at stake for the country … Nevertheless it can't be said that if we had pursued the tests we would have found proof."
Interesting. I'm not going to sit here and defend Lance Armstrong against all the doping allegations. Maybe he did or maybe he didn't. All I know is that the French, like Jeff Novitzky, have an unhealthy desire to nail him for it. Funny how they don't apply the same standards to their own petulant, lazy, underage prostitute loving athletes in the name of "reasons of state".
Dr. Jean-Marcel Ferret, the team doctor in 1998, categorically denied the allegations and claimed the anomalies were due to "tiredness from the league". Whatever you say, guy. He and Paclet can both claim nothing was discovered at the end of the day but neglecting to pursue the tests for "reasons of state" or the fear of what might be found does not clear the air. Unfortunately we'll never know whether the French team was using PEDs. They need to get back to deporting Roma families and making sure people with foreign-sounding names don't get jobs. À bientôt!
Tagged with: France • Ireland • PEDs • Soccer • Thierry Henry • World Cup
Filed under: Uncategorized
Like this post? Subscribe to my RSS feed and get loads more!