At First I Was Like Whoa, Then I Was Like WHOA!
Thursday, July 22nd, 2010 at 7:45 am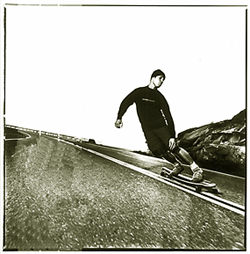 So people flying down large hills on skateboards is pretty impressive to see, but we've probably all seen a video or two of it already. If you've seen a couple, you pretty much know what you're in for. That's what I was saying to myself when I first started watching this…until I got to 1:14 in the video. Right there is where I saw a dude rolling down a hill at 60m.p.h. wearing a short sleeved shirt, shorts and a helmet. He wasn't even wearing any shoes.
That, ladies and gentlemen, is the definition of bad-ass. Watch for yourself.
Tagged with: Break • Longboarding • Skate or Die • Skateboarding • YouTube
Filed under: Uncategorized
Like this post? Subscribe to my RSS feed and get loads more!