Did Mariner Moose Make Ken Griffey Jr. Cry And Retire?
Monday, June 7th, 2010 at 12:10 am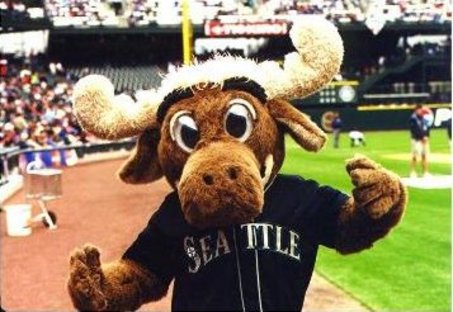 We're not sayin', we're just sayin'. Baseball fans still don't know why Ken Griffey Jr. was crying in the locker room. If we had to make an uneducated guess, we'd guess that Mariner Moose had a hand in it.
Moose experts warn that people should keep their distance from moose especially when they're in heat. Mariners fan Victor Aguilar found this out the hard way after he had his ass handed to him in a sack by the Moose.
Aguilar attempted to get a picture with the Seattle mascot but claimed that he received a beatdown instead.
"I was going to go like this (showing an embracing arm) to take a picture with him (the Mariner Moose) when he pushed me out of the way, and hit my arm and neck, and hit my stomach," he said.

The Moose then walked off, Aguilar said, leaving him and those around him completely baffled.

"I was like, 'What's going on?'" he said. "There were more people there, and they were like, 'What's his deal? Why'd he do that to you?"'
Aguilar wants the Mariners to pay the medical bill that he incurred after the alleged incident. He also wants the Moose to be disciplined. I'm no moose farmer or anything but I'm pretty sure you don't discipline a moose. Quite the opposite. He should have watched "When Moose Attack" or read "What To Do About Aggressive Moose" from the Alaska Department of Fish and Game. You step to a moose and you get dealt with. That's how it do in the Emerald City. Forget Jesus. Nobody fucks with the Moose. That goes for first ballot Hall of Famers too.
Tagged with: Baseball • Fights • Mariner Moose • Mascots • MLB • Seattle Mariners
Filed under: Uncategorized
Like this post? Subscribe to my RSS feed and get loads more!
Possibly related posts