New Sport: Poker, Pool and Pain?
Monday, February 9th, 2009 at 7:08 am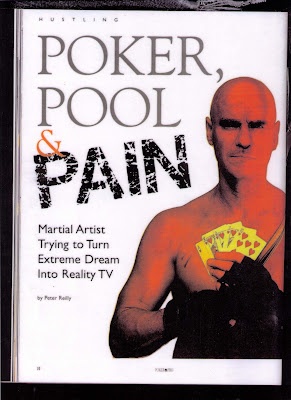 What do you get when you pit two competitors against each other in a game of pool, then take those same two people and have them play poker, then have those two kick each other's asses in a mixed martial arts fight? Apparently it might be a reality tv show. Well, at least the creator/contestent Blair Thein thinks it will be.

"The Interest in the uniqueness and excitement that surrounds this project, along with recent developments lead me to believe that 2009 is the year that "Pool, Poker and Pain" will Shine!"
Well…I guess putting them all together is unique. I guess? I mean, having a reality show about Ice Dancing, Football and Competitive Eating is pretty unique as well. I dunno, I am either missing the joke or I am the only one getting it, I'm not sure. I saw the video below and thought it was a pretty funny mockumentary, sort of like Spinal Tap or A Mighty Wind or something. Watch the video and see for yourself.
From Inside Pool Magazine and Pool, Poker Pain
Filed under: Blair Thein • MMA • New Sport • Not Really New • Poker • Pool • Reality TV
Like this post? Subscribe to my RSS feed and get loads more!
Possibly related posts