Boxing Has The Oakland Police Cold Going Mad Like 3.5.7.
Thursday, June 10th, 2010 at 1:50 am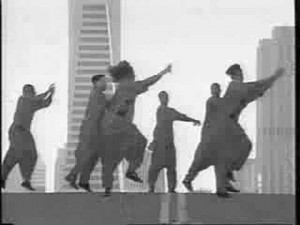 Give it up for off-brand San Francisco. While most of the country moves forward, Oakland keeps it Chicago Irish. North Side Irish and South Side Irish have separate St. Patrick's Day parades because they can't get along. Oakland Police are banned from officially sanctioned boxing matches because they fight with other law enforcement agencies as well as everyone else.
International Association of Boxing president Steve Fosum banned Oakland police officers from IAB sanctioned fights after they got into it with spectators watching a fight.
The fracas began after an Oakland police boxer named Casey Johnson beat Larry "Psycho" Ward, a state corrections officer in the final fight of the night. Witnesses said that dozens of Oakland officers had shown up to support Johnson and were taunting Ward during the fight.

After the fight, Ward went to his corner, and according to fight promoter Tom Gaffney, that's when three Oakland officers stood up and began yelling at Ward. Other spectators stood up and confronted the three officers, and the situation quickly escalated.
No punches were thrown but a chair was tossed and shoving ensued. The Oakland Police need to take lessons from Long Island and New Jersey douchebags. Witnesses should count themselves lucky. Officers from the same department got in trouble three weeks prior to the incident. They shot and killed a baby deer. Before you get upset, keep one thing in mind. Ducks are assholes.
Your old school of the hour: Juicy Gotcha Crazy by Oaktown 3.5.7.
Tagged with: Boxing • Fights • Oakland • Police
Filed under: Uncategorized
Like this post? Subscribe to my RSS feed and get loads more!
Possibly related posts