MLB Gave the Sports World a Two-Day Hangover
Friday, September 30th, 2011 at 7:41 am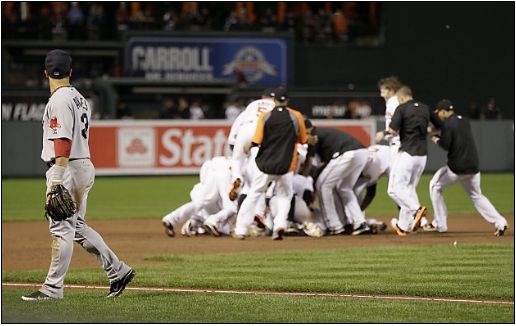 In a span of about 90 minutes on Wednesday night, Major League Baseball melted the proverbial faces of the sporting world with three dramatic win or go-home games. For a generation of sports fans that want/need/must-have information at every possible juncture, Wednesday night's finish was just about perfect. And if that wasn't quick enough, 48 hours later, we begin the playoffs. A couple of quick thoughts about what went down on "Wild Card Wednesday" and the days ahead for this crazy, drug-free season.
1. The only person to blame for Boston's collapse is that tempestuous broad, Lady Luck.
Let's try to pick apart the "Fire Everyone Whose Name Starts with 'T'" argument:
Theo Epstein: He owned the 2010 off-season. Picked up the best first baseman in the game, one of the best left fielders, and signed a gaggle of bullpen arms to support a staff that had roughly six legitimate starting pitchers. Carl Crawford endured the worst season of his career. Kevin Youklis: hurt. Dice-K: hurt. Clay Buchholz: hurt. Bobby Jenks: hurt. If that wasn't enough, he traded for Erik Bedard who promptly hurt himself. Something is radically wrong with John Lackey, but he was healthy enough to make it through the season. What else could Epstein have done? Pursued the Bruce Chen trade that lit up the blogosphere Wednesday morning? Gimme a break.
Tito Francona: It's hard to quantify a manager's exact influence over his team. I think it's safe to say that if your team crushes the rest of baseball for two-thirds of the season, you're probably a pretty decent one. If you needed further evidence, lets also add you're the only manager in the game to win two World Series in the last ten years. That's pretty good, too. At the same time, you coaxed an MVP season out of Jacoby Ellsbury while witnessing a renaissance from David Ortiz. With regard to conditioning, who is he going to bench? Ellsbury, Ortiz, Adrian Gonzalez, Jonathan Papelbon, Daniel Bard, and Dustin Pedroia all had fantastic seasons.
Anyone who watched the rise of the New York-Boston rivalry in the mid-2000′s saw something very similar Wednesday night: much like the Yankee teams of '04-'08, the Red Sox were playing not to lose. They had no confidence.  While Jon Lester pitched well enough to give them a one run lead into the seventh, the Red Sox knew it wasn't enough — hence, the shot of a dejected Ortiz after Marco Scutaro was throw out at home. He knew the Red Sox couldn't hold the lead.
Alas, this team is better than those Yankee squads: they are young with tons of pitching talent that's in its prime. Cheer up, Nation, you'll be back next year.  But please, no more talk about Dave Roberts.  2011 is the new 2004.
2. On the other hand, the Braves have no one to blame but themselves.
Yes, the Braves had some bad luck with injuries, but so did the Cardinals when they lost Adam Wainwright for an entire season. Derek Lowe pulled a Lackey. Chipper Jones pretended this was his first pennant race. Fredi Gonzalez made fans long for Bobby Cox as he continued to overwork his bullpen and place the blame on the likes of Jason Heyward.
Note to anyone with any authority in the Braves organization: go ahead and trade the five tool player who is only 22. If you do, I'm going to bash my head into the wall. Not because I like the Braves, but simply because I want to try to understand the reasoning behind such an idiotic move.
3. For the first time in over ten years, Camden Yards felt like a real stadium again.
I was fortunate to wrangle a ticket to Wednesday's game. As I approached the stadium, I expected a Red Sox-heavy crowd that would number around 20,000. Attendance actually topped out around 30,000 and the place was uniformly-clad in orange. There were a decent amount of Red Sox fans, but their chants of "Let's Go Red Sox" were easily drowned out by Baltimore fans. As someone who has seen what that stadium can be like when there's something on the line, it was a great thing to see. Baltimore's "two true outcome" lineup inspires comparisons to the pre-Kevin Towers Diamondbacks, but if they learn to take a walk here or there, a turnaround may not be too far behind. Sidenote: The O's lead MLB in HRs from June 1 through Wednesday night.
4. Award Winners
Hey, you can't write a season-ending baseball post without handing out hardware and making arbitrary predictions, right?
AL MVP: Jose Bautista, Toronto. The best hitter in baseball this year, he was still treated like a utility player in the field as he bounced back and forth between third base and the outfield. For a few months in 2011 he was the best player in baseball, bar none. His 2010 was no fluke and the five year deal he signed before 2011 is starting to look like a bargain. Miguel Cabrera, Curtis Granderson, Ellsbury, and Pedroia deserve special recognition, but Bautista tops them all.
AL Cy Young: Justin Verlander, Detroit. I hate to admit this, but I still get starry-eyed when I see a particularly stellar won-loss record. I understand Verlander's 24-5 record is a bit of a mirage, but the hard core numbers back me up. Verlander deserves MVP consideration as well as the Cy Young. He may not be Ron Guidry circa '78, but he had an awesome year.
AL Rookie of the Year: Eric Hosmer, Kansas City. This year's rookie class was daunting. However, Hosmer's arrival shone the brightest. There aren't many 21 year-olds who OPS .800 in over 500 plate appearances.
NL MVP: Matt Kemp, Los Angeles. It's not even close. The Hebrew Hammer deserves a lot of credit, but 2011 wasn't even arguably his best season. Kemp put up historic numbers at the plate while playing a position that demands speed, skill, and endurance. He also played in 161 games, fell one dinger short of a 40-40 season, and won two-thirds of the NL Triple Crown.
NL Cy Young: Roy Halladay, Philadelphia. This was the toughest one to pick, with Cliff Lee and Clayton Kershaw probably running away with the award if they had put up these seasons almost any other year. While Lee had more dominant streaks and Kershaw had slightly better raw numbers, the nod goes to Roy because he pitches in a notorious hitter's park in Philly against much better competition. In terms of numbers, he just edges out Lee. To be fair, you could pick any of these three and it'd be alright by me. In fact, let's just move on before I start second guessing…
NL Rookie of the Year: Craig Kimbrel, Atlanta. His performance in 2010 merely foreshadowed his 2011 dominance. Kimbrel notched 127 strikeouts in 77 hard-fought innings (averaging almost 15Ks per nine), finishing 64 games with 46 saves. He also didn't allow an earned run for almost three months. Kimbrel wore down as part of the Braves' late season collapse, but that shouldn't detract from his overall body of work.
5. Playoff Predictions
Well, my prediction of a Boston-Philly World Series was wrong for the second year in a row. Which means it will be right next year.
American League Division Series:
Detroit over New York: Two shots of Verlander and the vastly underrated Doug Fister ("Fister?") shock New York in the first round. Seriously though, who the hell sees a playoff rotation with Ivan Nova and Freddy Garcia winning anything? Detroit in 4.
Texas over Tampa Bay: I love the idea of Matt Moore starting Game 1 of this series, but I don't think it'll be enough. While the Rays were fighting for their playoff lives, sleeping giant Texas was preparing for another World Series run. C.J. Wilson and Derek Holland are on fire, and so is their offense. The Rays matchup well with Moore, James Shields, and David Price, but the Rangers are probably the most well-rounded team in the league. The Rays don't have enough magic to win this rematch. Texas in 5.
ALCS: A Rangers-Tigers series would be fascinating. Detroit could be 30 degrees and snowing while Arlington might top out around 80. I like the Tigers' moxie, but Texas is the team to beat. AL MVP Josh Hamilton and All-Star Nelson Cruz are almost an afterthought with a squad that boasts two other 30 HR hitters in Ian Kinsler and Adrian Beltre. Michael Young had quite possibly the most quiet 200 hit season ever. The bullpen is set with Koji Uehara, Mike Adams, and reigning AL ROY Neftali Feliz. Texas in 6.
National League Division Series:
Philadelphia over St. Louis: St. Louis actually played pretty well against Philly this year but the aforementioned Roy Halladay and Cliff Lee will probably pitch four of the possible five games, soooooo… yeah. Phillies in 3.
Milwaukee over Arizona: I doubted the Diamonbacks all year long so why stop now. I don't understand how a pitching staff of soft-tossing control artists supported by a mediocre offense could possibly beat out the likes of San Francisco or Colorado, but I was wrong. Not this time. Off-speed stuff doesn't fly during fallball. Prince Fielder's about to get PAID. Brewers in 4.
NLCS: I love Milwaukee: I love the fans, the stadium, the uniforms, and the team. They're all awesome. It's too bad that their historic 2011 is going to be an afterthought after Halladay, Lee, and Cole Hamels come through town. Phillies in 5.
World Series: Phillies over Rangers. Philadelphia was my pick in April and it'll stay as my pick now. The vaunted Philly staff has lived up to all expectations and then some. Texas deserves a lot of credit for making it all the way back in a league populated with Boston and New York, but the Phillies match up well with Texas and then some. Phillies in 5.
Enjoy the playoffs everyone. I'll be back to recant all of these picks probably by Monday.
Tagged with: Arizona Diamondabacks • Atlanta Braves • Awards • Boston Red Sox • Camden Yards • Cliff Lee • Detroit Tigers • F You Football • Fister? • Hebrew Hammer • Justin Verlander • Long Ass Posts • Matt Kemp • MLB • New York Yankees • Philadelphia Phillies • Playoffs • Predictions • Roy Halladay • St. Louis Cardinals • Tampa Bay Rays • Texas Rangers • Wildcard Wednesday
Filed under: Uncategorized
Like this post? Subscribe to my RSS feed and get loads more!