Rampage Jackson gets choked up during bout with Jon Jones
Monday, September 26th, 2011 at 7:55 am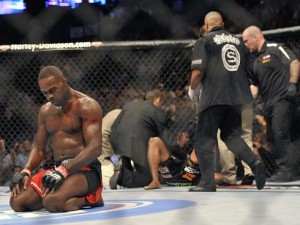 Although I was very much looking forward to UFC 135 I have to confess I didn't get to see it. You see, my expense account with the Deuce is under investigation and WHAT AM I MADE OF MONEY??? Okay sorry to fly off the handle like that, but I get cranky when I don't see my fights.
Well, it looks like this Jon "Bones" Jones character, who talks like Phil Jackson and fights like Anderson Silva, may actually be pretty good. Rampage Jackson literally lived in the gym for two months for this fight but went out in the first submission loss of his career, a rear naked choke that only sounds dirty but is actually quite lethal.
Next up for Jones is likely a fight with former friend and mentor Rashad Evans, who was technically the number 1 contender after beating Rampage last year.
Courtesy of FOXSPORTS.com:
It didn't take Jones long to end that notion. Jones opened up a cut above Jackson's right eye with an elbow in the third round and it was pretty much all over from there.

With his win, Jones may just be bringing stability back to the division. The belt has switched hands a number of times since Jackson last won the crown in 2007.

Down the road, Jones will face Rashad Evans, who was taking in the fight from the seats.

Evans knows Jones quite well — and there's no love lost between them.

He was friends and training partners with Jones before a falling out led to some bitter feelings.

The low-key Jones beat Mauricio "Shogun" Rua last March to become the youngest title holder in UFC history. But he was facing probably the hardest puncher around in Jackson.
Tagged with: Dana White • Jon Jones • Rampage Jackson • UFC
Filed under: Uncategorized
Like this post? Subscribe to my RSS feed and get loads more!