Blogger unashamedly draws wood from UFC main event announcement
Wednesday, September 7th, 2011 at 7:54 am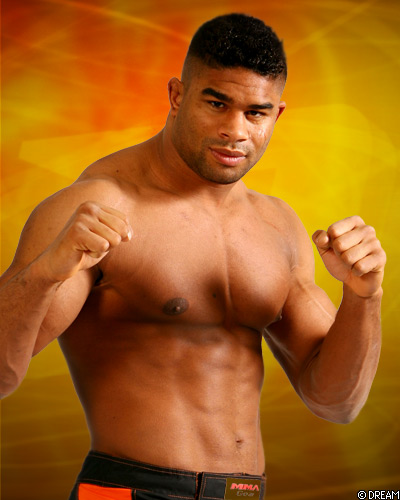 But you already knew this, right?
It absolutely pains me to see Strikeforce become the red-headed stepchild of the fight game as the UFC toys with shuttering the organization altogether after acquiring the company in March.
Although UFC was interested in several fighters, one of the top prizes for them had to be Alistair Overeem, the "fighting champion" who at one point appeared to prefer boxing exhibitions halfway around the world to fighting with top-flight security guards competition in the UFC. Well, like my days of peering into women's locker rooms with my zany friends at Angel Beach High School, Overeem has turned a new leaf, agreeing to join the UFC to fight Sable sodomizer Brock Lesnar.
Fight fans will note that Lesnar was seriously humbled by Cain Velasquez last October at UFC 121, losing the strap, and then gaining another life-threatening bout of diverticulitis. He reemerged recently to hunt prairie dogs and consume beef jerky and declare himself good as new. Works for me.
Roll around on the ground with me, LA Times:
"Brock is a big name, a dangerous guy, and this is a dream matchup," Overeem said Tuesday.

"I want to see this fight myself. Overall, I'm a different fighter. A striker, athletic, big. These are going to be two big trucks going at it on a collision course."

The 6-foot-5, 260-pound Overeem, 31, is a former K-1 kickboxing champion. He most recently defended his Strikeforce belt in June with a unanimous decision over takedown specialist Fabrio Werdum, who had previously defeated Fedor Emelianenko.

Lesnar, 34, has been out of action since losing his UFC heavyweight belt to Cain Velasquez in October at the Honda Center. Lesnar has been suffering from the intestinal ailment diverticulitis.

The Dec. 30 winner will be first in line to fight the winner of a Nov. 12 fight between Velasquez and Junior Dos Santos.
Lesnar never got to fight Dos Santos after the last season of the Ultimate Fighter. Which was fine with me because I wanted to stop watching so many fights and spend more time with my kids (bursts into laughter). I bet myself I could type that sentence without laughing…looks like I get to buy myself some bestiality porn.
Tagged with: Alistair Overeem • Brock Lesnar • Dana White • UFC
Filed under: Uncategorized
Like this post? Subscribe to my RSS feed and get loads more!